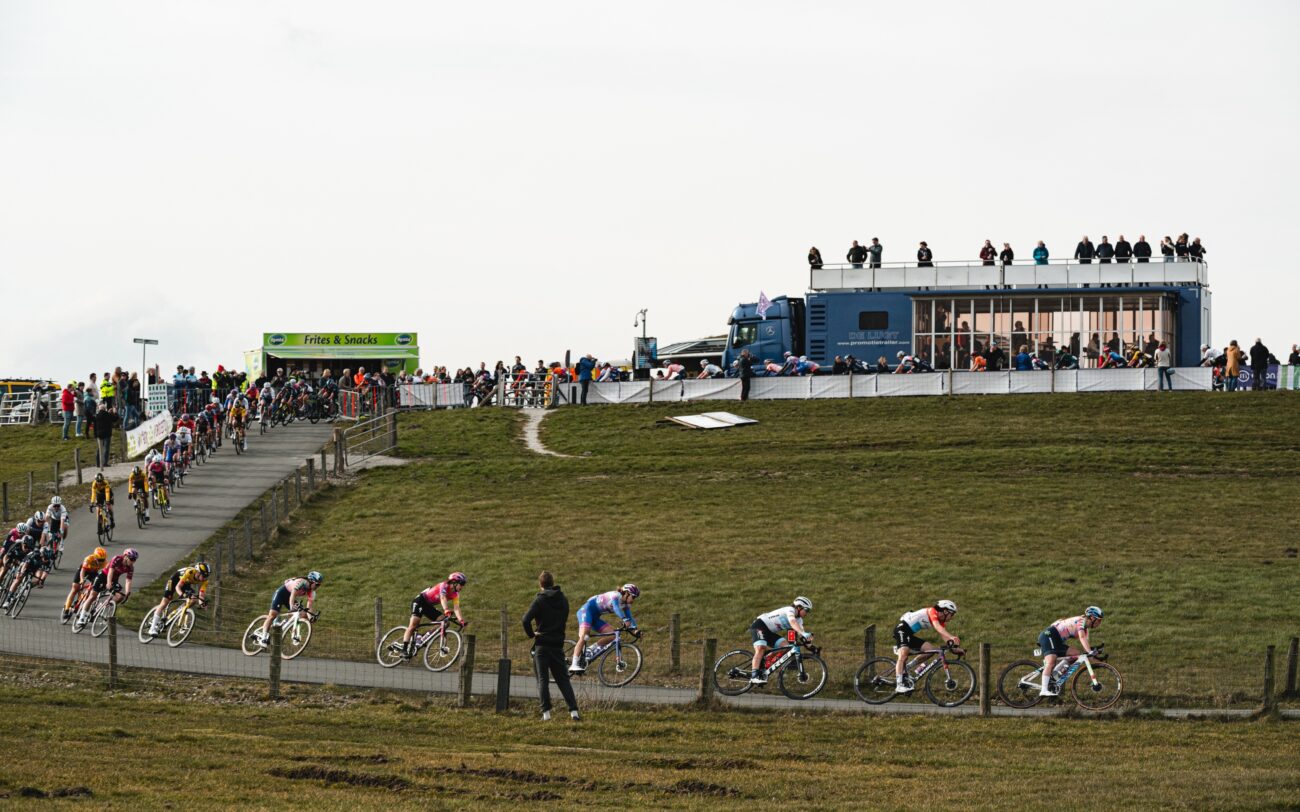 OH SO CLOSE AT RONDE VAN DRENTHE
For CANYON//SRAM Racing it was oh so close at the Women's World Tour race, Ronde van Drenthe in the Netherlands. The 155km race ramped up its intensity as the peloton reached the VAMberg for the first of four ascents with 70km to go. The peloton split and came back together several times over the course of the next hour of racing.
After the third climb, a dangerous four-rider move went clear and Sarah Roy was forced to help chase back. Another five-rider break went clear with 30km remaining where Shari Bossuyt and Ella Harris worked hard to bring it back ahead of the final climb. The fourth and final VAMberg caused splits in the peloton with Elise Chabbey in the front group and Sarah in the second. As the two groups came back together, Sarah found an opportunity to go in a four-rider move.
"I had a heavy crash about 7km before the first time over the VAMberg which cost me some energy. I wasn't sure if I'd make it back as there were so many splits already but thankfully the headwind slowed the peloton and I was happy to make it back," explains Sarah.
"After the last time up the climb it split again, and as soon as we came back to the front group I did my best to back (Elise) Chabbey up who was riding well in the front. I covered some moves and the last time was a good one that nearly stayed away to the end. It was a shame to be caught less than 1km from the finish but I think my little group was either a bit tired or happy to back their sprinters coming from behind in the main peloton. The cooperation could have been a lot better. I wasn't super confident it would stay away because Trek and DSM had missed it but I kept riding so it's disappointing. It's a positive feeling to finish top 10 after all that and my motivation is really high to build on that. We have a great team, so strong and awesome how we back each other's moves up so I'm really looking forward to the next one with this group."
While Sarah and her breakaway companions were caught with around 600m remaining. Alice Barnes prepared for the sprint.  It was won by Lorena Wiebes (DSM) with Alice finishing sixth and Sarah holding on to take tenth place.
Alice says, "I didn't feel great today and only made it over the VAMberg one time in the front. I was lucky that the other times we came back. Roy and Elise were our main leaders today so we didn't chase to bring my group back after the final climb when they were both ahead. The situation for us was good and it almost paid off."
"Considering how I felt I was happy with sixth and that I could be there to back up the team when the break came back which it did very close to the finish. I had to fight and work hard to be in a position to sprint. My sprint wasn't the best as I went early to get as good a position as possible but didn't feel like I was ever in contention. I'm disappointed that I didn't feel good after how I felt last week as I like this race. For now, it's time to focus again for Danilith Nokere Koerse on Wednesday," adds Alice.