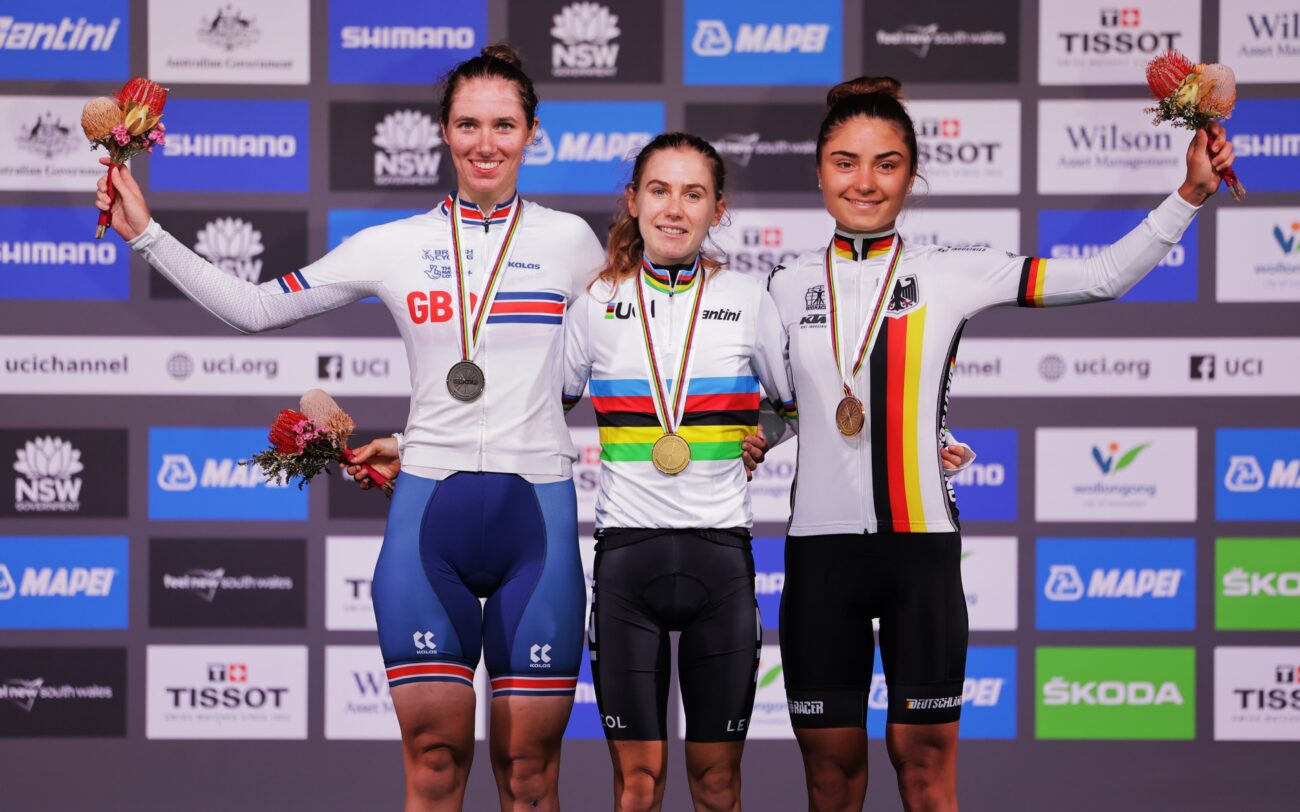 RICARDA TAKES ANOTHER BRONZE MEDAL AT WORLD CHAMPIONSHIPS
Ricarda Bauernfeind finished the UCI road world championships with another bronze medal after the German rider finished third in the U23 road race today. The CANYON//SRAM Generation rider made it a double-medal haul after taking bronze in the ITT earlier in the week.
Ricarda said: "I wasn't that nervous for the race today, as our team had a focus on Liane (Lippert). I should be the last rider with her as we got to the final. With two laps to go, I started to struggle on the climb. It's the hardest and longest race I've ever done.
"I was getting dropped but gave my best to come back to a group. Honestly, in the last hour I didn't notice much in the race. I wasn't looking for any U23 riders, I was just fighting to be able to come back and help. In the finish, I didn't know that I was third. Only, when an official came and told me that I was third did I realise that I won a bronze medal.
"That makes me super happy! The first medal in the ITT was special but winning a second medal at my first elite world championships is just amazing. I'm proud that I fought until the finish line. I'm also super tired!"
The U23 category was raced for the first time at the world championships. The U23 category was combined with the elite category. The gold medal was won by Niamh Fisher-Black (NZL), who was 12th overall, ahead of Georgie Pfeiffer (GBR) in 16th and Ricarda (GER) in 20th overall.
In the elite women, the race was won by Annemiek van Vleuten (NED) after a late attack with 700m to go, ahead of Lotte Kopecky (BEL) and Silvia Persico (ITA). For CANYON//SRAM Racing, Kasia Niewiadoma sprinted to 8th place, and Elise Chabbey was 9th.
Kasia Niewiadoma said: "I was having a good day, but the final result doesn't show it. It gives me a strange feeling now, straight after the race. I hoped the final kilometre was played out differently. I'm not happy about 8th place. But I'm happy knowing I prepared and came to the race in great shape and could be a part of the final."
Elise Chabbey said: "My first feeling is that I'm disappointed because I had really good legs and just missed being with the best riders on the top of the climb. Then, I also missed my sprint in the final. I have to respect Annemiek; she was not the strongest today but the smartest, and that's cycling. It shows how much I still have to learn. Still, I'm happy with my season and 9th at the world championships is not bad. My progression is good, and I had a consistent season. It's a good sign for the future!"