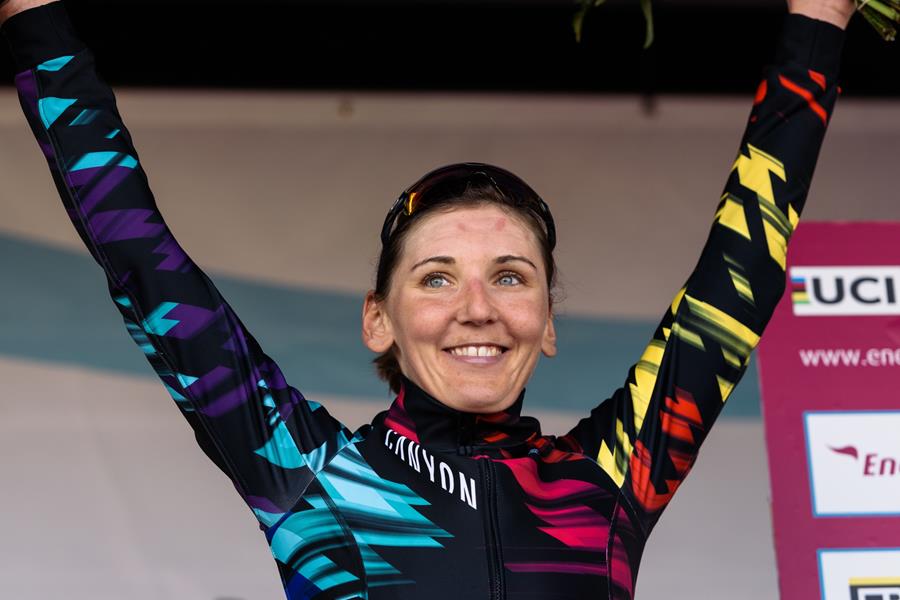 Brennauer takes 3rd on GC at Energiewacht Tour
Lisa Brennauer sprinted to second on the final stage today at the Energiewacht Tour in Borkum, Germany. Brennauer finished off a great team effort by CANYON//SRAM Racing to also secure third place in the overall general classification.
The final stage was won by Kirsten Wild (HPU), Brennauer second, and Christine Marjerus (DLT) in third. Although the circuit again passed the sea front in a similar route to the final stage in 2015, less wind today did not allow any breaks to stay away despite efforts from several teams. The peloton was all together when it came down to a bunch sprint into the island town of Borkum and Brennauer was hot on the wheel of Wild to place second.
After the race, Brennauer was pleased with the result. "The team did a really great job all week but especially today! It was such a great team effort and with a nice lead out they brought me in a good situation for the sprint. The girls tried hard themselves to get in a break and did awesome lead outs for me in the intermediates and also in the final sprint. We wanted to try to send one of us in a breakaway if possible, and to create an opportunity for a stage win, as well as maintaining my third place on GC. That's quite a lot when you say it like that but they did a great job! I won all intermediate sprints and in the end we missed out on getting second on GC only by one second. Overall it was great teamwork today!
Team Directeur Sportif Ronny Lauke commented "It was a good final stage with the team. They tried to keep the GC and to see if there was an opportunity to win the stage themselves. They rode well together and they had an impact on the race so I think that is quite good. There were some small mistakes throughout the stage race that had an impact on a better ranking, but at this time of the year, I think it is okay and I am happy. I believe this week they have understood and learned a lot more from each other and in the next stage race we will see it will be even better for the team as a result.
The team next races at Omloop van de IJsseldelta in Zwolle, Netherlands on Saturday 16 April.