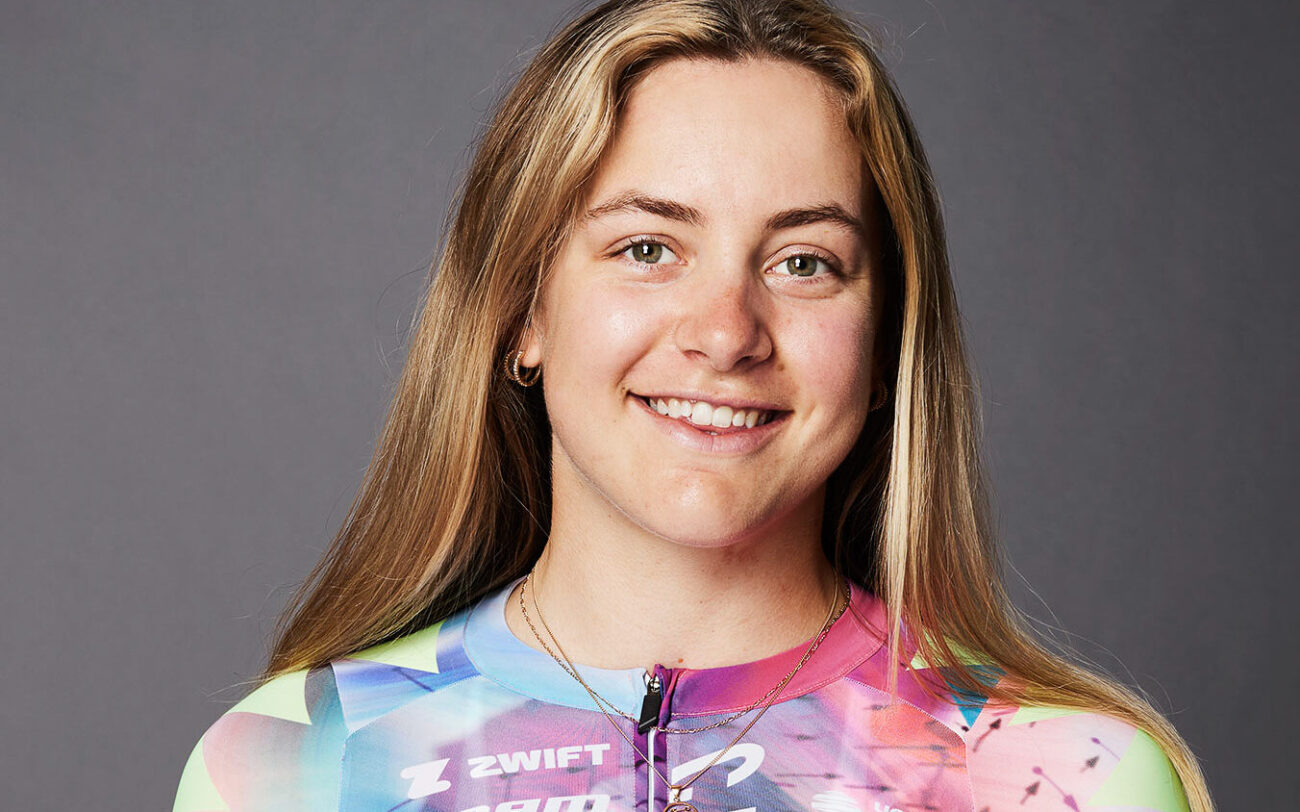 ZOE BACKSTEDT SIGNS WITH CANYON//SRAM RACING
CANYON//SRAM Racing is thrilled to announce that Zoe Bäckstedt has just signed a three-year deal with the team. Zoe's contract starts today, September 1, 2023, allowing her to race with the team for the upcoming 2023/2024 cyclo-cross season.
A multi-disciplinary racer, Zoe will continue to split her time between road, cyclo-cross and track throughout her contract with CANYON//SRAM Racing.
CANYON//SRAM Racing Team Manager Ronny Lauke, "We are pleased to have secured the talent of Zoe as part of our future planning to guide young talents to the sport's top level. Our strategy has always been to see and accompany the growth of young, ambitious riders. Quickly and smoothly, we reached an agreement with Zoe's former team owner, Linda Jackson, that enabled Zoe to begin the next cyclo-cross season already with our team, which we agreed was to her benefit.  Zoe will fit well into the group of riders we already have united within the team and our high ambitions to grow further. We are looking forward to the journey."
Zoe says, "I'm excited about the opportunities at CANYON//SRAM Racing. I will get to race with a strong squad and have the freedom to race in any discipline I want to, as well. The team has made a lot of developments in the last year, and you can see that on and off the bike. I really like this; it helped my decision as I like to have a good structure around me. Plus, the bikes and kit are pretty cool!"
"I believe I will bring to CANYON//SRAM Racing some more good tunes to the pre-race playlist, my love for the sport and just the fact I'm happy to be at a bike race with my teammates."
The 18-year-old moved from Wales to Belgium in 2022 and plans to stay there for the foreseeable future.
"There are so many benefits that I've found for living here. For example, there is a lot less travelling over the winter for the cyclo-cross season because if the race is in Belgium, it will be a maximum of two hours away. Same for the classics. If a rider becomes injured or sick before a race, I can go to the race without long or last-minute travel. Plus, I have most of the roads from the classics within a 30-minute ride from my home."
Even at 18 years old, Zoe boasts a golden palmares. In 2022, she started the year by winning the 2021-2022 Junior Cyclo-cross World Champion title. She then added to this by holding the Junior World Champion titles in Road, ITT, and Madison, all in the same year. This came on the back of the Junior Road World Champion title a year prior and a host of European and national titles.
Moving to the U23 ranks in cyclo-cross last winter, Zoe already took a silver medal at the World Championships in Hoogerheide.
The current elite women's British Cyclo-cross National Champion said she wanted to be a cyclist since age 10. But turning pro only became a more realistic goal after the junior world championships in Leuven in 2021. At the end of her teenage years, she focused solely on cycling across several disciplines.
"I was doing so many sports that they were overlapping for training sessions. So, one day, I just said I wanted to stop the other sports and focus on cycling. I am committed to cycling 100%. I see myself racing track, cyclo-cross and road in the future. MTB will stay for training and is great for my skill level. I enjoy all the disciplines, mostly because they allow me to ride a bike! All of the disciplines play into each other. For example, my road endurance is needed for cyclo-cross and bunch racing on the track. The leg speed I gain from the track I need in cyclo-cross when it gets super muddy, and my legs start burning in a hard gear. And the skills I get from sand, mud and everything cyclo-cross are needed on the road and track. So they all really do tie in together!"
Zoe signed her first pro contract in late 2022, and with the recent announcement of her previous team, EF Education-Tibco-SVB, stopping at the end of 2023, she had the opportunity to look for new teams.
EF Education-Tibco-SVB Team Founder Linda Jackson says, "I am so happy that Zoe found a good home with CANYON//SRAM Racing. Placing Zoe on a new team before the 2023/2024 CX season started was critical to supporting her 2024 World CX Championships goals.  I have always respected Ronny's team, and we have very similar strategies; to find promising young riders early and develop them into top international riders.  At just 18, Zoe is very young and has incredible potential.  She needs a team that will work with her as she grows and not put too much pressure on her too soon.  She's talented across many different disciplines, and balancing her racing calendar and not overloading her requires a team focused on developing riders and putting their needs first.  She has that with Canyon SRAM, and while sad about my team's circumstances that led to this change, I am truly excited to follow her future with Ronny's team, and I wish her the very best."
Looking ahead, Zoe says she'll take a lot of learnings from the 2023 season.
"This season has been a bit frustrating in terms of injury, but that's made me appreciate the importance of the team around you and how much they can help. I've also learned that coming from junior to elite is one crazy big step! My worlds at junior were +/- 60km long, and the longest race I did this season was 165km at Gent Wevelgem. I've also learned there's no pressure in your first years to do anything spectacular but more to learn from your mistakes and your teammates."
"For the rest of 2023, I will be focussing a lot on the cyclo-cross season as I'm a second-year U23 rider, and I'd like to chase after the World Cups as much as possible. My goals beyond that are developing as a rider, especially in the next couple of years while I'm still young, and from then on, trying to get some results and just having fun in the process!"
Zoe will have her first cyclo-cross race at the Major Taylor Cross Cup in Indianapolis, USA, on October 7.