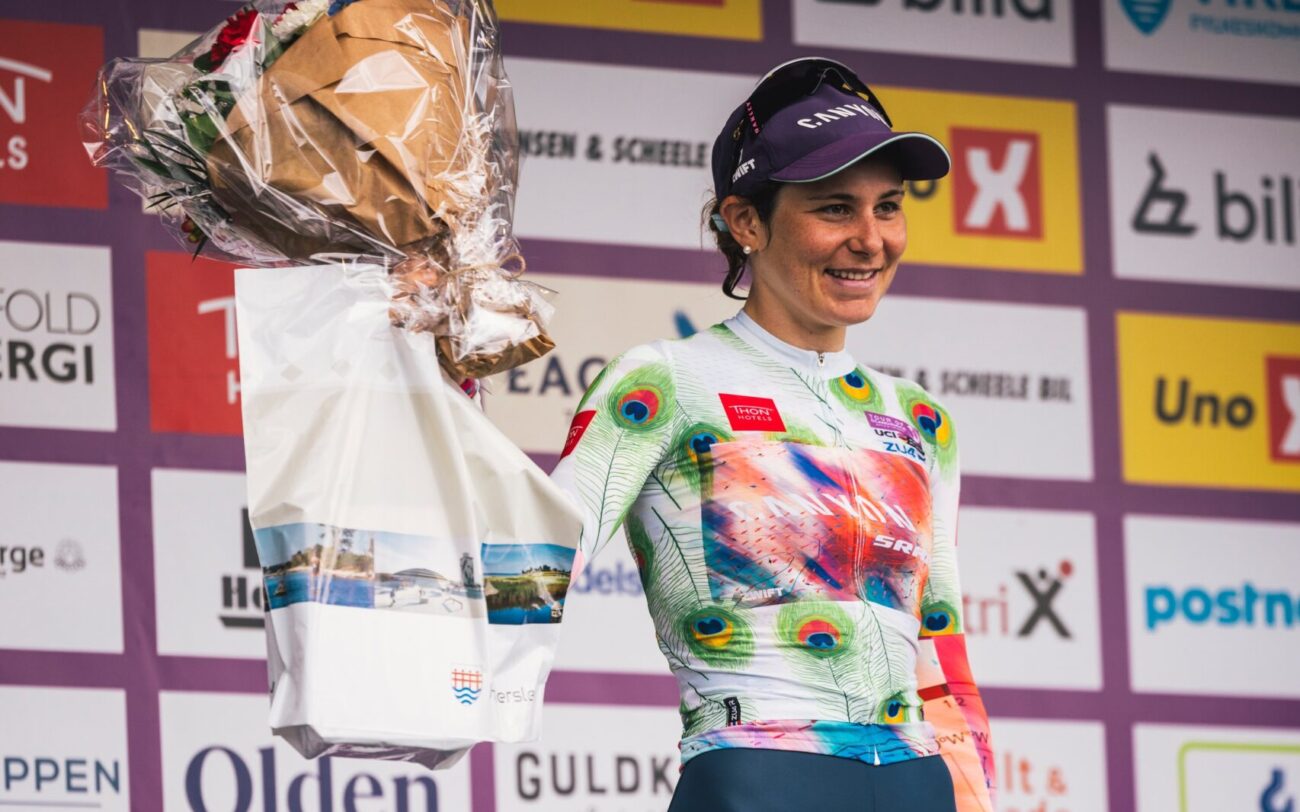 ELISE WINS THE QOM JERSEY, RICARDA TAKES 7TH ON GC
Elise Chabbey claimed the Queen of the Mountains jersey after the final stage of the Tour of Scandinavia today in Haderslev, Denmark. Elise led the classification throughout the five-day tour with the exception of just one stage. Elise reclaimed the jersey in the third stage and could extend her lead each day to win by seven points.
Ricarda Bauernfeind claimed another general classification top ten when she finished seventh, just 1:16 from the overall winner, Annemiek van Vleuten (MOV). Each day, Ricarda moved higher in the general classification, again showing her strength in stage races. It's the third time Ricarda has been in the overall top ten after fifth at La Vuelta, ninth at Tour de France Femmes avec Zwift and today's seventh place.
RIDER REACTIONS 
Elise Chabbey: "The beautiful peacock QOM jersey design was a big motivation, ha! We had a clear goal today of grabbing some points to keep the jersey, keeping Rica safe in the GC and then going all in for the final. I'm not feeling 100%, so I did my best to get points and then, in the end, tried to help as much as I could. Overall, we aimed for more from this race, but with two riders going home sick, we also had to be happy with what we could achieve."
Ricarda Bauernfeind: "Our goal overall was to finish on the GC podium, but unfortunately, we had less team strength after Soraya and Aga had to leave the race. With those strong riders, we could have played some different cards. The GC was all about the mountain stage and the TT. I couldn't follow the best climbers on stage three, but Elise could take back the mountain jersey. Yesterday, I did a strong time trial, but on the flat course, it wasn't enough to finish better than 24th place.
For today, our goal was to save me in the GC and keep Elise's mountain jersey. We raced strong as a team, and my teammates put me in a good position to not lose any seconds on the final climb. Overall, in the last few days, we rode strong and enjoyed racing together.
Seventh in GC is a nice result for me, especially because I can already feel the tiredness from the season; it's the same for everyone. In every race, I learn new things and try to improve on other things. My teammates always help and support me, and this gives me more confidence race by race."