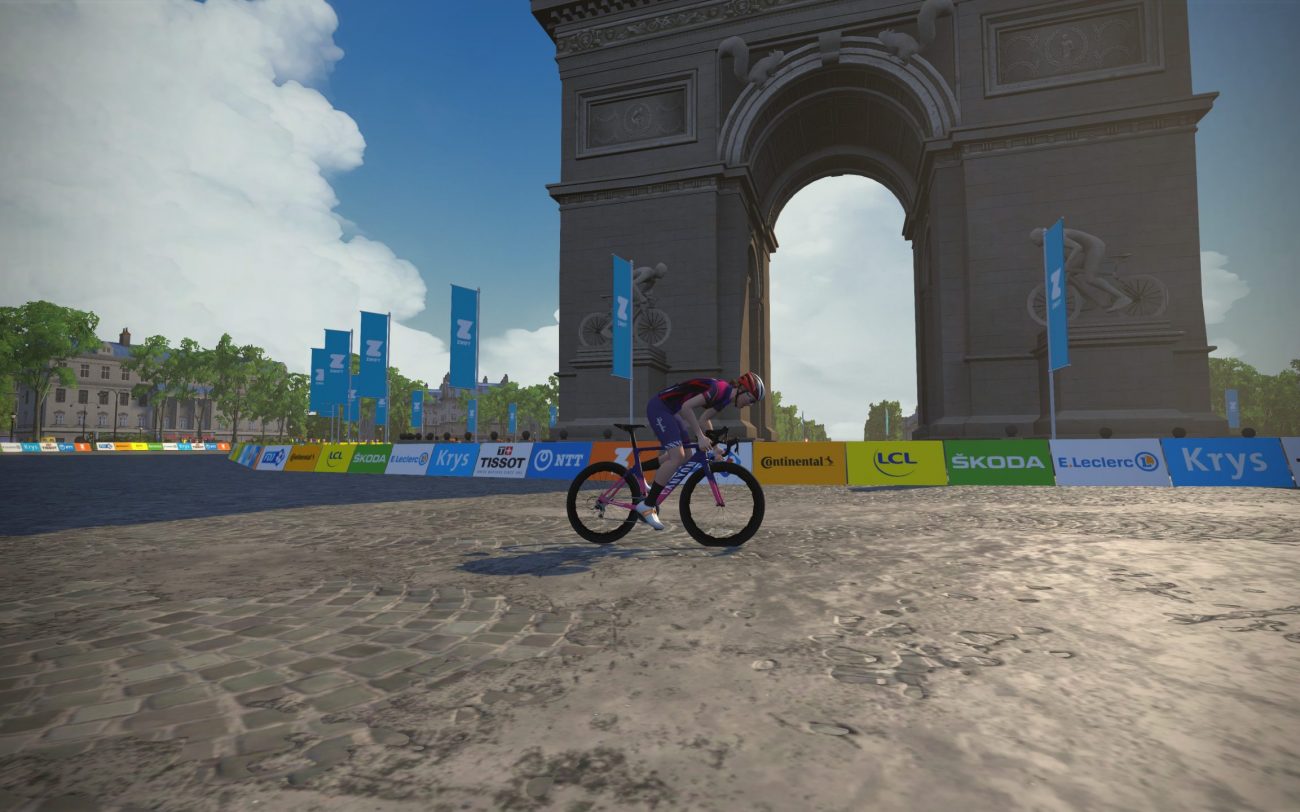 Winners of the youth classification
We finished the inaugural Virtual Tour de France today by winning the white jersey for the youth classification. Fans were treated to a fast-paced circuit finale for the three-weekend tour, held on a brand new Champs-Élysées course on Zwift. Alice Barnes was our best placed rider in the bunch sprint, placing sixth.
"The race went pretty well for me personally. I got involved in the first three sprints but once it was evident we wouldn't be able to win the green jersey overall without numbers in the front, I then changed my focus on saving energy for the finish," explained Alice.
"The front group was getting smaller and smaller after every intermediate sprint. It didn't matter if you were going for sprint points or not, it was hard for everyone in that group. I had to really maintain concentration and position to make sure I stayed in contact."
Alice continued, "I wouldn't say sprinting on a turbo trainer really suits me at all, but I made sure in the final laps when I received the aero power up to save it. For the final sprint, it was a case of using that power up and digging deep. Either I went a bit early or the line was too far away?! Overall I was pleased with my race and I think the team showed great efforts every stage of the tour."
Teammate Tanja, who won the third stage, explained her race. "I guess I had one of those dark days today. I just didn't have the legs at all. It was a fast start and an early intermediate sprint. I positioned myself well in this sprint, but somehow I didn't really recover from the effort anymore and the second one gave me and my legs a hard time. I was super happy to see Alice in the front group, but felt really bad I couldn't score more points for the green jersey or the team GC. I gave it my all to at least finish in the points. It was not what I was hoping for on the Champs-Élysées, but I guess that is racing."
"Overall, I was super excited and happy about this opportunity for our team and women's cycling in general. Having the same coverage as the men's race is like a dream come true and it was evident for anyone who watched both that our races are not any less thrilling. The stage win was for sure my personal highlight, but it was even better to see the team working so well together with Dan (Bigham) doing a great job as our Sport Director. I loved the commitment everyone showed throughout the three weeks. We're pleased with the overall result and we all look forward to the upcoming road races."
Lisa, who has experienced only a handful of Zwift races, found the race has given her even more motivation for the upcoming new road season.
"The start was so hard! I was expecting and prepared for it to be hard, but I was dropped after the first sprint, and that made the rest of the race mentally challenging. It showed that I need to do more racing on Zwift and more race efforts on the trainer at home. But I'm feeling motivated by today. I have set my season goals and I'm determined to achieve them. We had a great team spirit, even if the race is virtual. The race meeting, the preparation for race day, the feeling amongst the group, it was great and I enjoyed it a lot. Also big thanks to Dan for his patience and expertise as our DS."
Christa, also gave her post-race review of the final stage and the tour. "The race didn't go as good as I hoped. It was a really fast start and after the first sprint I had to go deep to stay in contact. I am a bit disappointed, because I was aiming to be able to earn some points in the final for the team's general classification hopes."
"Overall, I liked the idea of the Virtual Tour de France, especially during this period when Covid-19 is having such an impact on the world, including our sport. It was great to see Zwift provide the women's pro peloton with the same environment and race conditions as the men's tour. It was an opportunity to represent our team's partners, to gain some race-paced competition and also to compare our season preparation with other professional teams."