Alice Towers
Great Britain
No stranger to top ten places in the youth classifications, Alice Towers showed her potential by winning the road race at the British national championship in her second year as an elite rider with an arduous solo breakaway. She followed this with seventh place on the Muur de Geraardsbergen in the final stage of the Lotto Belgium Tour, proving her versatility. 
The 20-year-old British road champion looks forward to being an integral part of the Women's World Tour Team next season.
"I realised I wanted to become a full-time pro rider when I was a junior. I started to take the sport more seriously and learned about the women's pro peloton. With each step I took, I knew I wanted it to be a part of my future.
I have signed with CANYON//SRAM Racing through to 2025, and I'm grateful for the security and trust of the team. It's been a team I've admired and been inspired by for a long time.
I'm looking forward to becoming teammates with riders I idolise, learning from them, and developing myself. I would love to be part of successful team performances, especially wins! I aim to be reliable, a good friend to my teammates, and carry on learning and developing under the wing of CANYON//SRAM Racing. I always have an optimistic attitude towards challenges and am a motivated team player."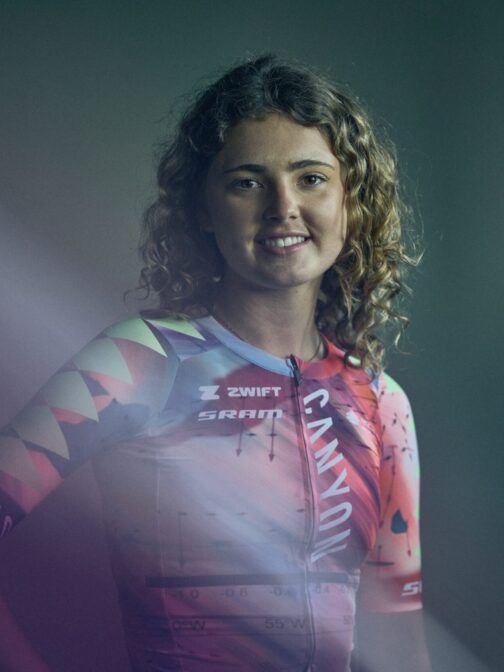 Palmares
2023
2nd place TTT stage, La Vuelta Femenina by Carrefour, WWT
5th place youth classification, Tour de France Femmes avec Zwift, WWT
10th place general classification, Tour de l'Avenir U23
2022
Great Britain national road champion
5th youth classification, Thüringen Lotto Ladies Tour
4th youth classification, Lotto Belgium Tour
10th general classification, Lotto Belgium Tour
2021
9th youth classification, Setmana Ciclista Valenciana
9th mountain classification, Women's Tour, WWT
2019
4th place, Great Britain junior national road championships
2023
With fifteen riders from nine different countries, Women's World Tour team CANYON//SRAM Racing is the home of a diverse group of highly ambitious women who are willing to invest in their future and the future of cycling by breaking new grounds and constantly challenging themselves and their competitors.