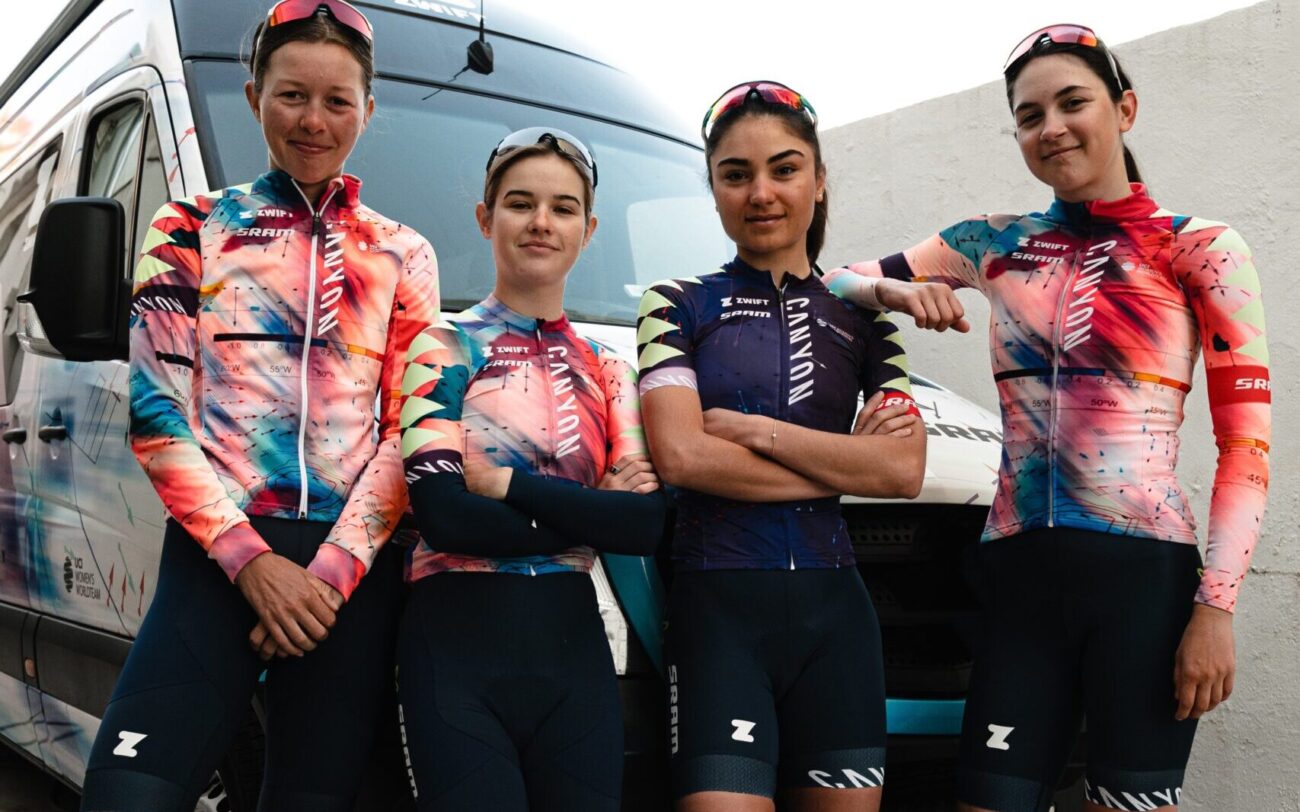 4 RIDERS AT CYCLING ESPORTS WORLD CHAMPIONSHIPS
Four riders from CANYON//SRAM Racing and CANYON//SRAM Generation will race the UCI Cycling Esports World Championships on Zwift on 26 February 2022. From national federation selections and wildcard entries, Ricarda Bauernfeind, Neve Bradbury, Ella Harris and Maud Oudeman will each fly their country colours to chase the rainbow jersey.
Saturday's 54.9 kilometre race around the New York City (NYC) course on Zwift is the third time the Cycling Esports World Championships have been held.
"It's really cool that a new discipline of cycling has been able to grow in a relatively short space of time, to the point where the UCI have recognised it as being worthy of awarding a rainbow jersey," says Ella who races for New Zealand.
MAUD OUDEMAN
Ella's CANYON//SRAM Racing teammate and 2021 Zwift Academy road winner, Maud Oudeman will race for the Dutch national team.
"The Cycling Esports World Championships fit really well into my season. Zwift racing is really brutal and hard. I've been racing the Zwift Racing League on Monday evenings for the past six weeks and this has been a good way to combine intensity with my winter training schedule. I've seen my own progression with the races and that's been helpful to give an insight into the level of the peloton that we will compete against on Saturday. It's also just a few days before my first road race with CANYON//SRAM Racing so I'm looking forward to both of these races."
After a course recon, Oudeman believes it will suit the more punchy riders.
"It goes up and down a lot and there are almost no flat parts which doesn't allow much recovery. We have a strong Dutch team on the start line for both men's and women's races. Most are racing in the Zwift Racing League – Premier Division which I believe will give them a big advantage for World Championships," says Oudeman.
RICARDA BAUERNFEIND
From CANYON//SRAM Generation, Ricarda will represent Germany in a four-rider women's squad and also has ridden the course several times.
"I already raced on this course in January in order to start preparing," says Ricarda. "It's a really challenging course with a very hard finish. I know that it's very important to stay in the bunch because there is no chance to come back once you've been dropped. We have quite a strong team for Germany and two of my teammates are part of an Esports racing team."
"It will be full gas from start to finish so I hope that I can support the more experienced Zwift racers as best I can. It will be a hard and long race so I'll need to keep a good position and save every bit of energy I possibly can."
Ricarda has been at two endurance training camps with CANYON//SRAM Generation in recent weeks.
"The Cycling Esports World Championships aren't the ideal start to my season. I've been doing more endurance riding and not focusing on punchy accelerations at the camps. I'm also focusing a lot on my university work with exams coming up. But I'm feeling good and I'm looking forward to racing and challenging myself."
ELLA HARRIS
Although no stranger to Cycling Esports racing on Zwift, Ella says it doesn't get any easier and expects a fierce battle.
"Zwift races are hard, regardless of anyone else's tactics. In the past, Zwift races have suited me quite well as they lend themselves to longer time trial style efforts at a higher power, but I've been struggling in the recent Zwift Racing League events to push power on the trainer and also ride at 100% trainer difficulty, which is a newly added requirement for racing."
Ella continues, "The Knickerbocker course is quite undulating and the race is relatively long at 54km, so this will certainly sap the legs and make it an attritional affair with the stronger riders rising to the fore over the duration. I've ridden the course and know it well, which I think is important for positioning and being able to prepare for the gradient changes."
"I started training in earnest for this season quite late, with the recent team camps marking the start of some higher-intensity work and intervals – before then I had been riding steadily and maintaining fitness. My road fitness is still surprisingly good despite my focus being more towards April, but that hasn't really followed through into Zwift yet – hopefully, it might show up on Saturday!"
Ella, who starts her fourth year with CANYON//SRAM Racing this season, has been happy to see the growth around Cycling ESports on Zwift.
"There is a community and fanbase for Esports riding that is continually growing, and having it UCI-recognised is important for creating a greater distinction between indoors versus outdoor riding or racing. I think it's very valuable for a rainbow jersey to be awarded as it is symbolic of Esports becoming a truly skilled cycling field of its own, and it helps to lift the profile for those riders who decide to specialise in it."
NEVE BRADBURY
"The Knickerbocker course is definitely going to make it a brutal race. It has 942 metres of elevation so I like to think that will suit my strengths," says Neve who was part of a wildcard selection for the Australian team.
"My prediction is that the bunch will just whittle down slowly throughout the race and then get split apart the last time up the NYC KOM. We have a strong team racing, with everyone bringing different skills into the race so I think we will have a lot of cards to play and in different situations."
Like her teammates but soon-to-be competitors, Neve has ridden the course several times.
"It's super important to know what's coming up and when so that you can be well-positioned when you need to be. I am nearly out of my pre-season period so the Cycling Esports World Championships fit quite well into my program and the race will be a nice kick start to my road season," adds Neve.
HOW TO FOLLOW
The UCI Cycling Esports World Championships on Zwift will be broadcast live on Saturday 26 February on Zwift YouTube and GCN at 10:00PST | 13:00EST | 18:00GMT | 19:00CET | 05:00AEDT.
Learn more about the event here.