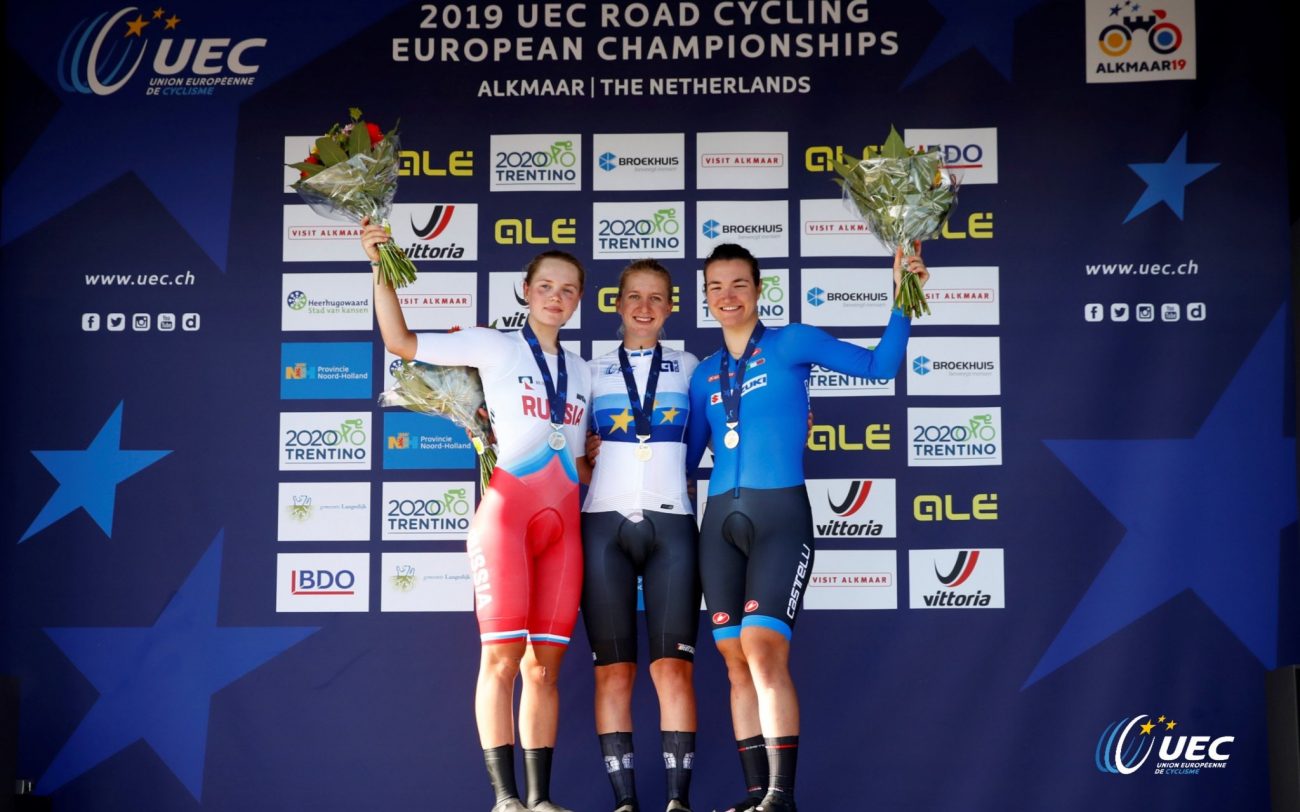 Three medals at European road championships
CANYON//SRAM Racing riders collected three individual medals at the European Road Championships held from 7 to 11 August in Alkmaar, The Netherlands.
Hannah Ludwig won the gold medal with a 38 second advantage in the U23 women's Individual Time Trial (ITT) on Thursday August 8.
In the elite women's ITT the following day, Lisa Klein took a silver medal, Alice Barnes was 9th and Rotem Gafinovitz finished 13th.
Saturday's women's road race saw Elena Cecchini win silver and Lisa Klein win bronze in a three-rider sprint, and Alice Barnes had another top ten finish when she was fifth.
Hannah Ludwig (Gold medal U23 ITT, European Road Championships): "The course was not technical which I really liked but it was super tough because of the strong wind. I would say it was quite a mental course. With a tail wind out and head wind home, I invested more on the way back. I believe it was the right thing to do as you really couldn't lose a lot of time on the way out, but you could on the way back with that wind. I am super happy! Happy like crazy because I have never been European champion before!"
Lisa Klein (Silver medal ITT, European Road Championships): "The course wasn't particularly exciting with no basically no corners. But despite this I'm super happy with my silver medal. I had a good day, good legs and a good pacing strategy (also Lars Teutenberg helped with this) saving in the tailwind and going full gas in the headwind. It was my first ITT for the German national team at this level and I was nervous before the start. To leave with a silver medal it feels really good."
Elena Cecchini (Silver medal women's road race, European Road Championships): "It wasn't the plan that I would go in the breakaway but I was feeling good and I found myself there. Against Lisa (Klein) and Amy (Pieters) in a sprint the odds weren't really in my favour. I had hoped that they would start the sprint early as my sprint acceleration is still the thing that's coming back after I had my time off with my broken wrist. In the end, Amy started the sprint at the right moment and I couldn't go passed her. After being a little disappointed straight after the finish, now I can say that I'm very happy and proud my silver medal!"
Lisa Klein (Bronze medal ITT, European Road Championships): "We were working really well together in the breakaway. We were all pacing it hard and taking the corners like hell! I was feeling over the limit with 2 laps to go but then a little better in the final lap. I can't say much about the sprint. I'm disappointed how I rode it. It was a mistake and I look back at it now and think I could have done this or should have tried that but it is what it is. I'm happy that Elena got the silver medal, so soon after her injury to be back in great form, and in the sprint she was just stronger and had a better tactic. I think my inexperience showed in that situation so I can look forward to one day getting it right and winning in such a big race. I'm going to go home now and enjoy a few days with my family and reflect on three races and three medals!"
Klein also won a silver medal in Germany's mixed team time trial team on the opening day of the championships, giving her three medals for the championships.