Maud Oudeman
The Netherlands
Maud is the winner of the sixth edition of the CANYON//SRAM Zwift Academy, a virtual talent identification program on the online training and racing platform.
Kasia Niewiadoma says, "What I liked about Maud was that she could really be herself throughout the week of the Zwift Academy finals. She was very strong during all the workouts and challenges but she had a nice attitude on and off the bike, and when she was in just riding mode compared to racing mode. I'm confident she will easily bond with all of her new teammates. My tip for Maud would be to stay who she is. She's doing great so far! The year will be full of surprises and challenges but I feel like she is ready for that."
Oudeman, from Nijmegen in The Netherlands, was overwhelmed when the announcement was made.
"I can't believe it!" says Maud. "On hearing my name as the winner, I felt so many different emotions. Mostly, I felt proud of myself for what I have achieved. I felt proud that I started this journey, enrolling in Zwift Academy and thinking about a dream to make it to the finals. Proud of a bag full of experiences from the finals that I took home with me to The Netherlands. The finals week was so amazing but also a tough test."
"It feels unreal to be the winner of the Zwift Academy. It really is a dream coming true. I cannot wait to race for CANYON//SRAM Racing and I'm really excited to continue to learn, improve and help the team as much as I can."
We're looking forward to seeing what we can achieve together in 2022!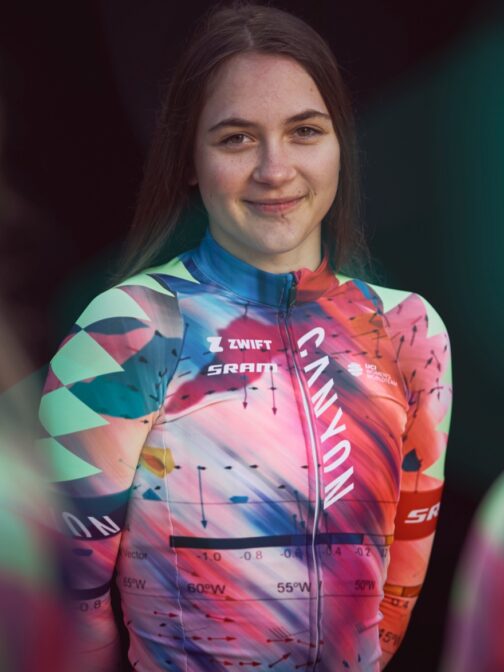 Palmares
2021
Winner, CANYON//SRAM Zwift Academy
4th place, Dutch junior ITT national championship
11th place, Dutch junior road race national championship
31st place, European Continental junior road race championship
2022
With fifteen riders from eleven different countries, CANYON//SRAM Racing is the home of a diverse group of highly ambitious women who are willing to invest in their future and the future of cycling by breaking new grounds and constantly challenging themselves and their competitors.