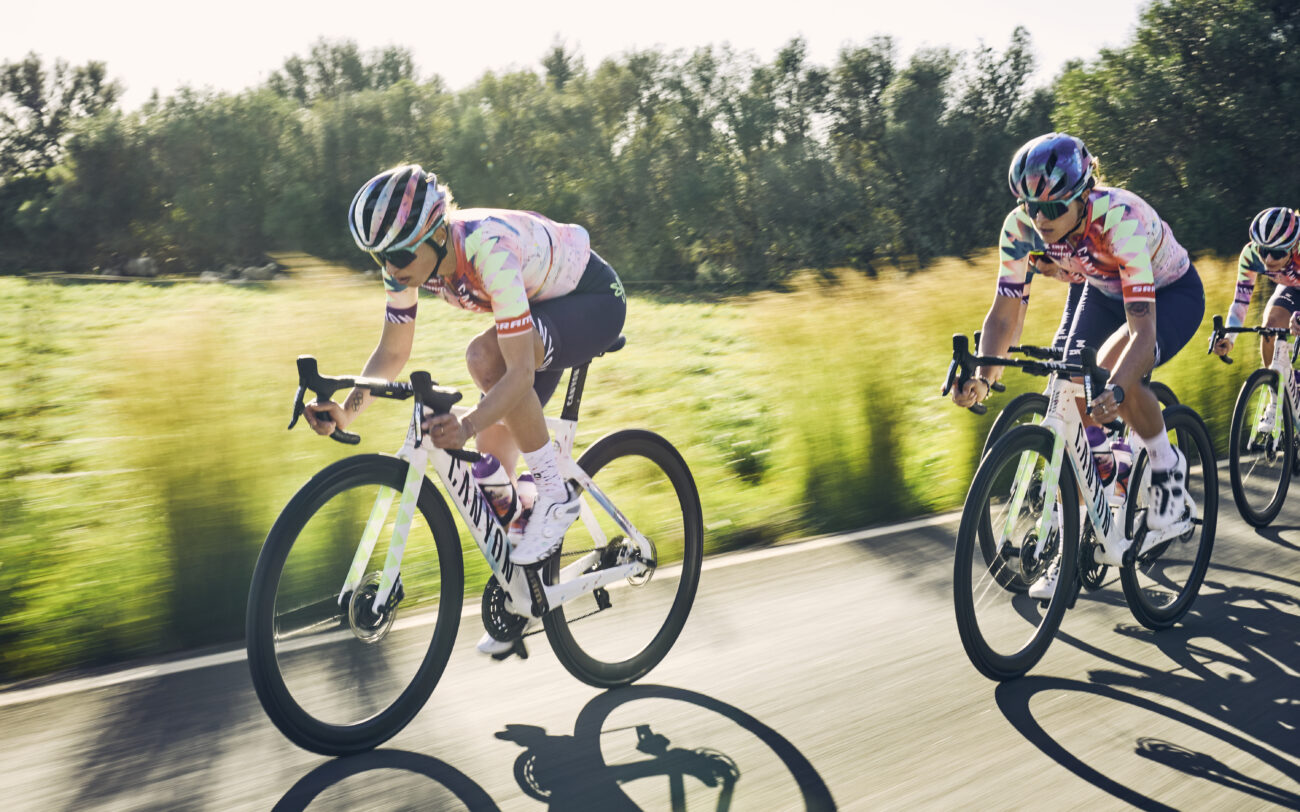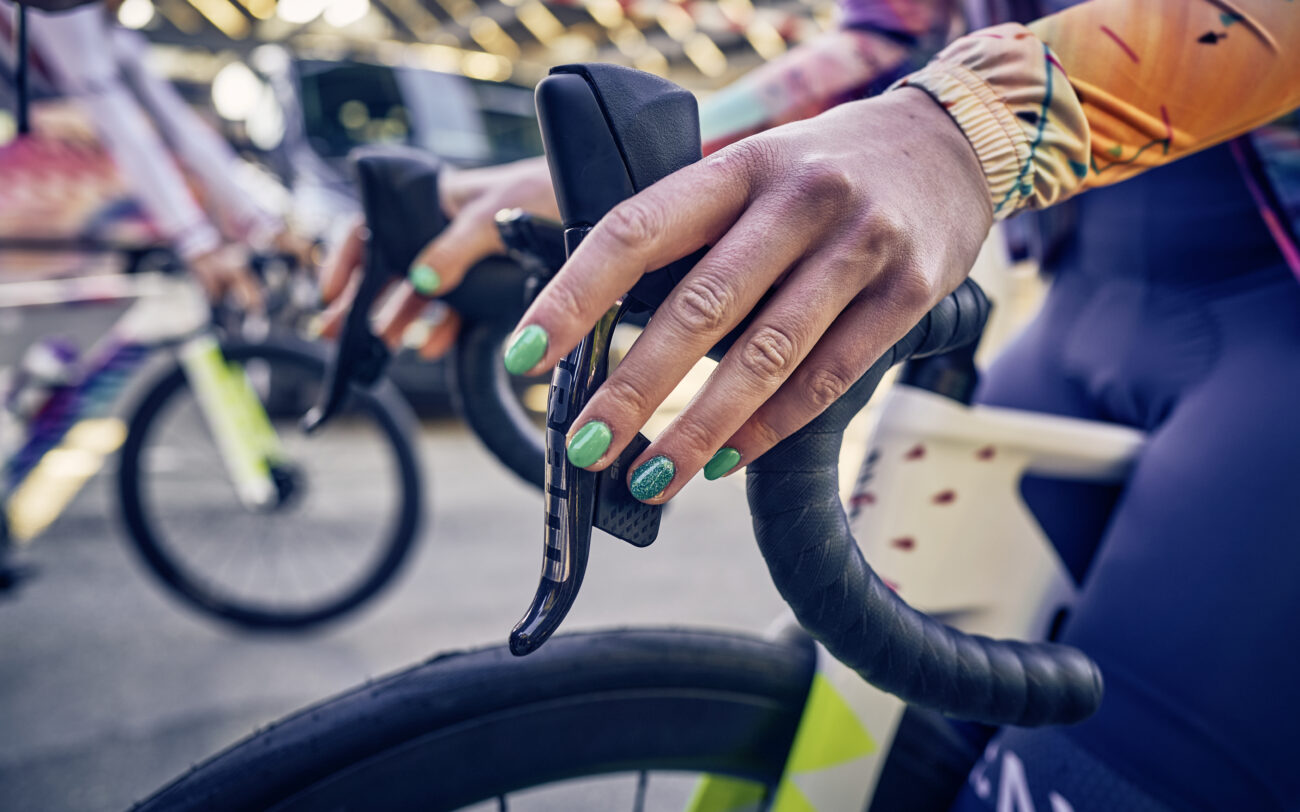 OUR ROSTER FOR THE 2023 TOUR DE FRANCE FEMMES AVEC ZWIFT
CANYON//SRAM Racing announce its roster for the 2023 Tour de France Femmes avec Zwift. The team will bring a mix of climbing, all-round and sprint strength for the tour that starts on 23 July in Clermont-Ferrand and finishes eight days later on 30 July in Pau.
The riders selected are Ricarda Bauernfeind, Elise Chabbey, Kasia Niewiadoma, Soraya Paladin, Agnieszka Skalniak-Sójka, Alice Towers and Sarah Roy.
Here is what the riders have to say ahead of the 2023 Tour de France Femmes avec Zwift.
RICARDA BAUERNFEIND
"I´m super excited, nervous and happy all rolled into one emotion. It's one of the biggest races on the women's calendar, and I'm going to be on the start line! It was my goal for the future to be a part of this special event, and I feel honoured to be selected already this year. It gives me even more motivation for my future career. 
Although some stage profiles look quite easy on paper, every day will be hard with many undulations and hot weather conditions. I know there will be a lot of attention on the race, but I'm going to focus on the race itself and enjoy the crowds and atmosphere. 
I did many of my preparations in Austria, where I had the right length climbs to train on. I'm feeling good and well-prepared. My goals are to support my teammates and race as a team so that we can achieve a stage win and the highest possible place in GC. The Tourmalet climb on stage seven will be key, and it's on the second last day, followed by a time trial, which will mean GC will be exciting. I'm going to give 100% each day and enjoy the experience."
ELISE CHABBEY
"I'm really excited and really grateful that the team selected me for the biggest event of the season. My preparation went well, and I can't wait to start. I'm proud of what we achieved last year, with Kasia on the GC podium and winning the team classification. We definitely aim for another successful tour. 
The courses are hard, everyone is in top shape, and the media attention is big, so there will be a battle each day for the stage victory and classifications. Everything can happen right until the last day. In particular, I'm looking forward to stage four as it's a long and tough day with over 2300m elevation, all in the second half. Overall, we'll keep fighting for each other to bring the best success to the team. We're mentally prepared for eight super hard days.
It's the first year in my career that I really have had the time to prepare for an event. I spent a lot of time away from home at altitude, and I feel my shape is good. I believe we can reach the GC podium, and I hope there are opportunities where I can go for a stage win. I'm confident we can achieve a good result when we race without fear."
KASIA NIEWIADOMA
"I'm really looking forward to going on another journey through France, which will surely bring many good memories regardless of the final results. The race is a big goal of mine, and I'm excited and ready to be on the start line in Clermont-Ferrand. I want to arrive in France and soak up whatever energy the race, the team and the fans will give me. I know it will be a hard race, busy days and hot weather!
Last year I prepared really well together with my coach, so having that good memory definitely makes it easier for us to navigate the training program this year. I've prepared again in Andorra, training hard and recovering harder. I'm only focused on cycling and enjoying it, knowing such an important race is coming. 
After doing the course recon, both GC contenders and riders targeting only stage victories are going to go all out every day. Every day, there is an opportunity to impact GC, which will be exciting for fans to follow. I'm aiming to be more invisible and less predictable in the peloton. I aim to defend my podium spot on GC and win a stage. As a team, I believe we can achieve a GC podium and team classification like in 2022, and I want that we can add a stage win to our success."
SORAYA PALADIN
"I'm glad to be selected for the Tour de France Femmes avec Zwift. It's the most important race on the calendar. We have such a strong team, I'm excited and looking forward to racing.  
We have done a course recon where we saw the stages are long, technical and definitely not easy. There will be a lot of fighting for positioning and to be in the breakaway. It's something that makes you tired not only physically but also mentally. I really look forward to stages two and seven. As in every stage race, there will be some ups and downs, but I'm ready to fight. I expect big crowds, and I can't wait to climb the Tourmalet with the crowds cheering us on!
I was sick last year during the Tour de France Femmes avec Zwift, so my memories of the first days aren't so nice. I kept fighting, and with the support of my teammates and staff, who kept motivating me, I could make it through and help the team in the second half. Celebrating together our win in the team classification last year was amazing, and it's a feeling I would like to have again. 
After our course recon in June, I did two weeks at altitude in Livigno and then raced the Giro Donne. My shape improved every day. I've come back to Livigno for the final preparation for the tour, so I'm ready to compete with the best. I want to help the team achieve a big GC result and try to get in breakaways myself. We have strong GC contenders, but a lot of mixed strengths with riders that can go for stage wins too."
AGNIESZKA SKALNIAK-SÓJKA
"I am very happy to be racing. It's an honour to be selected and an appreciation of my work so far for the team. After the reconnaissance, I am well aware of how difficult this race will be. It gave me the opportunity to prepare precisely for the tour.
My goals are simple. Complete the tasks given to me each day to 100% of my ability, represent the white and red Polish national champion jersey in the final stage ITT, and happily reach the finish line in Pau after eight days of giving our all as a team. We have a very strong line-up for this race. We're confident of achieving great results."
ALICE TOWERS
"I'm obviously super excited to race the Tour de France femmes avec Zwift and really proud to be a part of the squad. I'm sure I'll get a bit more nervous when it gets closer, but I'm counting the days for now!
After watching CANYON//SRAM Racing's success in the 2022 edition, I am super motivated to be a part of similar success this year. I'm expecting the race to be brutal. We have done the reconnaissance of the course, and every stage is challenging in its own way. It's the most hyped race of the year, and I expect a lot of media attention and fans cheering us daily.
My preparation has been going really well. I've been training at altitude and following a really simple routine. I really enjoy this as I find it quite comforting. I can't believe how quickly the Tour de France femmes avec Zwift has come around. I only have a few more training sessions left to complete!
My main goals are arriving in the best shape possible and supporting the team as well as I can. I'll take it day by day and enjoy the experience, getting into the race process and getting stuck into each stage. When we're committed to each other, we have a strong line-up for stage victories and GC success."
Update 20th July 2023: Due to illness, Maike van der Duin is replaced by Sarah Roy in the team's lineup for the race.
SARAH ROY
"This is my tenth year in the pro peloton, and Tour de France Femmes avec Zwift was always something talked about. Now it's here, and my first chance to race, and I'm so stoked to be here in good form, ready to race. I'm looking forward to the buzz, the great organisation, the race that means something to a lot of people even outside the sport, and being part of our great team racing hard on challenging parcours.
I've been rebuilding since injuries, taking confidence from a great Giro Donne with the team and having the legs to race hard day after day. Since then, I recovered well, hiking for a number of days in the mountains – a place that makes me really happy. I then had some key sessions and felt mentally and physically ready to race.
I aim to be a key part of the team in achieving our goals and looking for any opportunities to show the team colours and what we are made of out there. We have a strong team with many possibilities on individual stages and overall. I think the Tourmalet stage, in particular, because that is going to be an absolutely thrilling experience." 
HOW TO WATCH
The Tour de France Femmes avec Zwift is from 23 to 30 July. The race can be followed on Twitter with #TDFF2023 and #WatchTheFemmes.
A daily broadcast can be found on France 3, RTBF, VRT, DKTV2, TG4, NOS, TV2, Eurosport, GCN, RTVE, SRG-SSR, FloBikes, CNBC, Peacock, ESPN, BeIn Sports, SKY Sport, VRT, SSC, Zhibo.tv and TV5 Monde.
Stage 1 | Clermont-Ferrand – Clermont-Ferrand | 123.8km | 12:15CEST | Broadcast 12:00CEST
Stage 2 | Clermont-Ferrand – Mauriac | 151.7km | 13:05CEST | Broadcast 15:20CEST
Stage 3 | Collonges-La-Rouge – Montignac-Lascaux | 147.2km | 13:30CEST | Broadcast 15:20CEST
Stage 4 | Cahors – Rodez | 177.1km | 12:25CEST | Broadcast 15:20CEST
Stage 5 | Onet-le-Château – Albi | 126.1km | 14:00CEST | Broadcast 15:20CEST
Stage 6 | Albi – Blagnac | 122.1km | 14:20CEST | Broadcast 15:20CEST
Stage 7 | Lannemezan – Tourmalet | 89.8km | 16:15CEST | Broadcast 16:05CEST
Stage 8 ITT | Pau – Pau | 22.6km | First rider 14:30CEST | Broadcast 15:20CEST