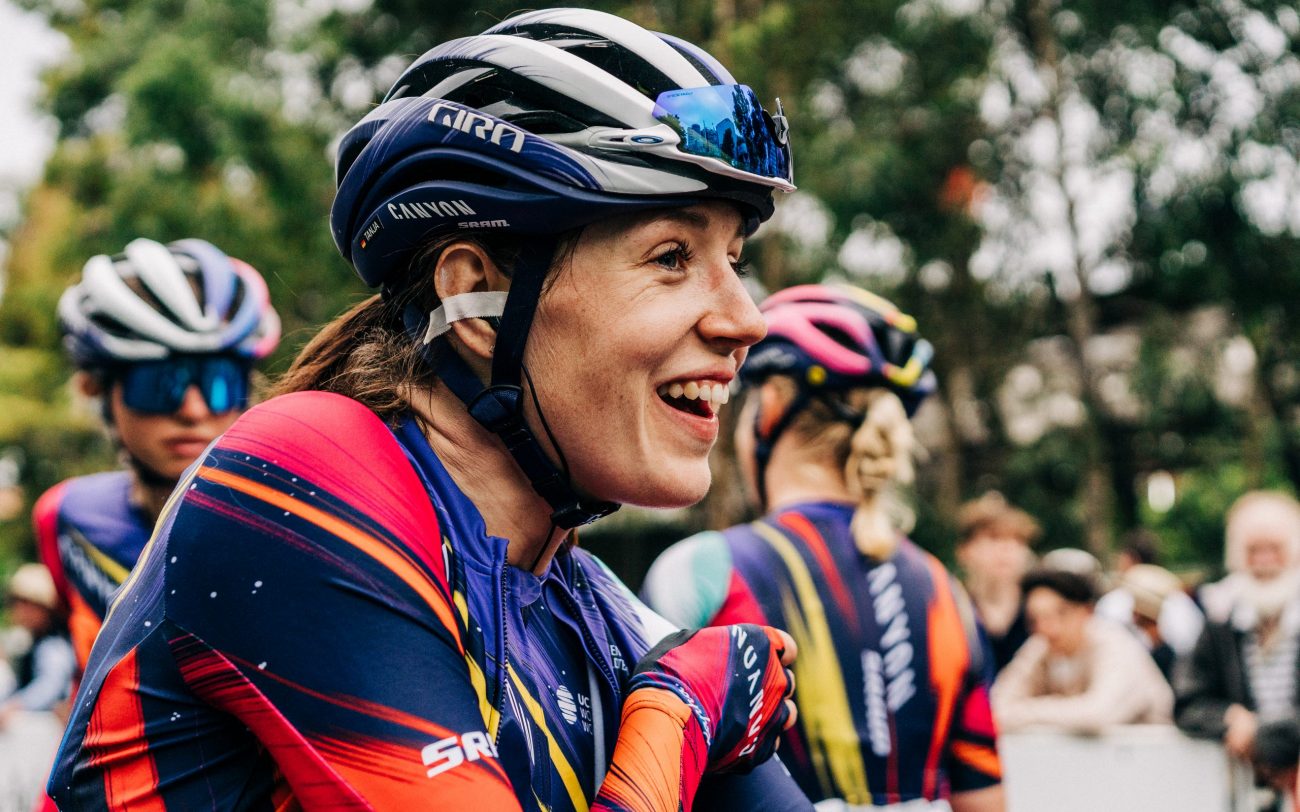 Tanja wins stage 3 of the Virtual Tour de France
Tanja Erath won today's exciting stage three of the Virtual Tour de France. The 2017 CANYON//SRAM Zwift Academy winner put in a well-timed sprint finish to take victory, and boost the team into second place on the general classification. We also maintained our lead in the youth classification, and regained the lead in the sprint classification after successful team work during the race.
Tanja was elated after the finish and explained her approach to the race. "I felt great already during warm up. I raced a pretty controlled race, since on Stage 1 I invested a lot very early to make sure we got that green jersey. I wouldn't exactly call it an error, but my legs didn't really like the idea of collecting points in sprint and mountain classifications and trying to go for the finish too."
"I started speeding up around 290m to go, and I was all out and used my power up from 200m to go. I am so, so happy. I raced a lot the last month on Zwift and it really helped me to stay focused, motivated and not only maintain fitness but increase my fitness a lot! When I heard about the Virtual Tour de France, I dreamed of winning a stage. Being a CANYON//SRAM Zwift Academy winner, winning a stage on a new Zwift course designed especially for the Virtual Tour de France, is a pretty special script," explained Tanja.
"The team did an amazing job! The girls were positioned well for all of the sprints, so I knew that I could save my legs for the final. I would say that Alice had one of her best Zwift races and the same for Christa. With three riders in the front group it was a perfect scenario to gain a lot of points. I was really pleased how we raced as a team, since we were always present, but also really smart with our power output. It's really good to see everyone on a good level getting closer to the road season re-start."
Today's stage win for Tanja caps off quite an exciting week for the German rider. Tanja, who also holds a medical degree, was required to deliver her sister's second child earlier this week, when the baby arrived before they could make it to the hospital in time.
"I kept saying to myself, 'stay close to the front! Your legs feel good, your heart rate is under control' throughout the stage.  Also my main thought was: 'I just helped deliver a baby, I can also win a stage!'"
Tanja's teammates each give their summary of the stage.
Alice Barnes finished sixth on the stage: "I was pretty nervous going into the race as it was my first for a little while. I have been feeling good on the bike so knew I had good legs but it isn't always the same story in Zwift as the racing is full on from the start. Dan had a good plan that suited me well, as did the course. I had never targeted sprints mid race before but knew I could recover well for them and that they were important for gaining points. I surprised myself in the first sprint which gave me a lot of confidence for the rest of the race and as long as I could manage to stay with the group over the climb I would be ok."
"I am really happy with my race as it is my best Zwift race to date where I was in contention in all sprints and the finish. We had a great race as a team so I am looking forward to watching tomorrow and racing again next Sunday."
Christa Riffel: "I was a bit unsure how I would feel today, but it wasn't my first Zwift race so I knew what to expect. I think Dan's plan was a great one, there were not many QOM points to get, so the sprints and the finish were the most important so that's what we concentrated on. We could make it work quite well, we always grabbed some points and with Tanja winning it was just awesome!"
Rotem Gafinovitz: "I was excited but really calm and ready to rock. I feel quite disappointed with my performance as I burned out completely after a good first sprint, dropped from the front, and finished in the second group, so I'm not super happy with that. The team was AMAZING! Every sprint I heard Dan saying the results and it made me proud of how my teammates were racing. Tanja finished it off like a queen and this is wonderful to see. It's really motivating for me to train and work harder, and looking forward even more to races out on the road with the team."