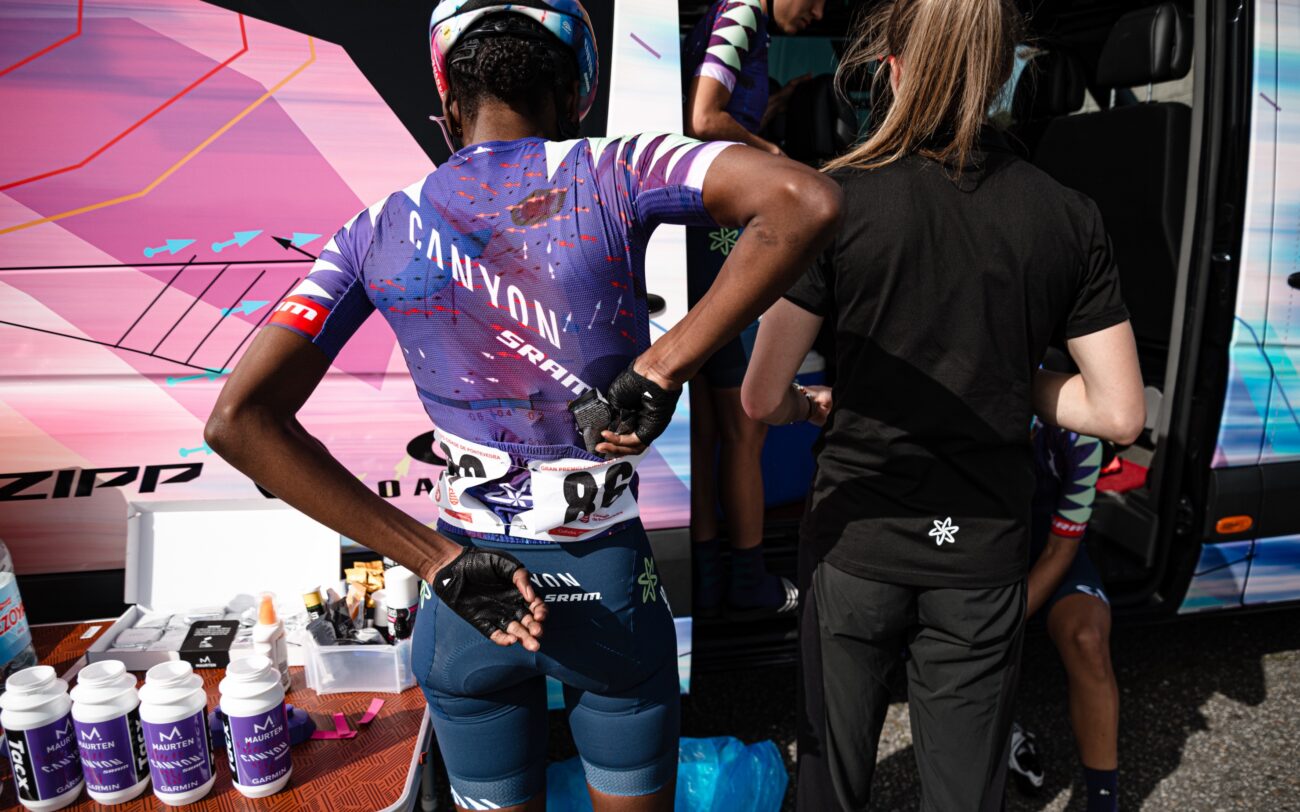 CANYON//SRAM GENERATION IN BALMASEDA, SPAIN
CANYON//SRAM Generation returns to the Spanish Cup series today at Balmasedako Emakumeen Saria in Balmaseda, Spain. The team's roster is Ricarda Bauernfeind, Agua Marina Espinola Salinas, Valentine Nzayisenga and Llori Sharpe.
Yesterday, the team did a course reconnaissance and Llori believes it suits the strengths of the team. With eight climbs in total for the 91.9km course, it is set to be a tough race.
"The course itself isn't extremely hard, but knowing the strength of the peloton, I won't be saying that on race day!"
Llori continues, "The first climb is relatively manageable, but the second climb, which is about 4km long, is where you'll see breaks and different groups being formed as it's longer and a bit steeper. The course also features some descents that aren't too technical, but being in the Basque country and with a high chance of rain, we'll need to be fully alert. I do like the course and I think it definitely favours the strengths of our CANYON//SRAM Generation team. I always get anxious on race day, but I can't wait to get be at that start line!"
"Having had a few Spanish Cup races under my belt, you get a good sense of the teams and their riding styles, so for sure, the stronger ones will do their very best to make the race as hard as possible. My goal as per usual is to give this race my all and to represent myself and the team well!" adds Llori.
Teammate Ricarda, who was fourth at last weekend's Grand Prix Féminin de Chambéry, also anticipates a hard race.
"With the hilly loop and rain, I think it will be a hard race. Hopefully, we can build a group with two or more of our team to have some cards to play in the last part of the race. My teammates and I are getting stronger from race to race so everyone can be in this group.  It would be nice if we can work together as a team to get another good result," says Ricarda.
HOW TO FOLLOW
The race start is 16:00CEST today and is set to finish around 18:30CEST. The action can be followed on Twitter with #CopaEspañaFemCofidis