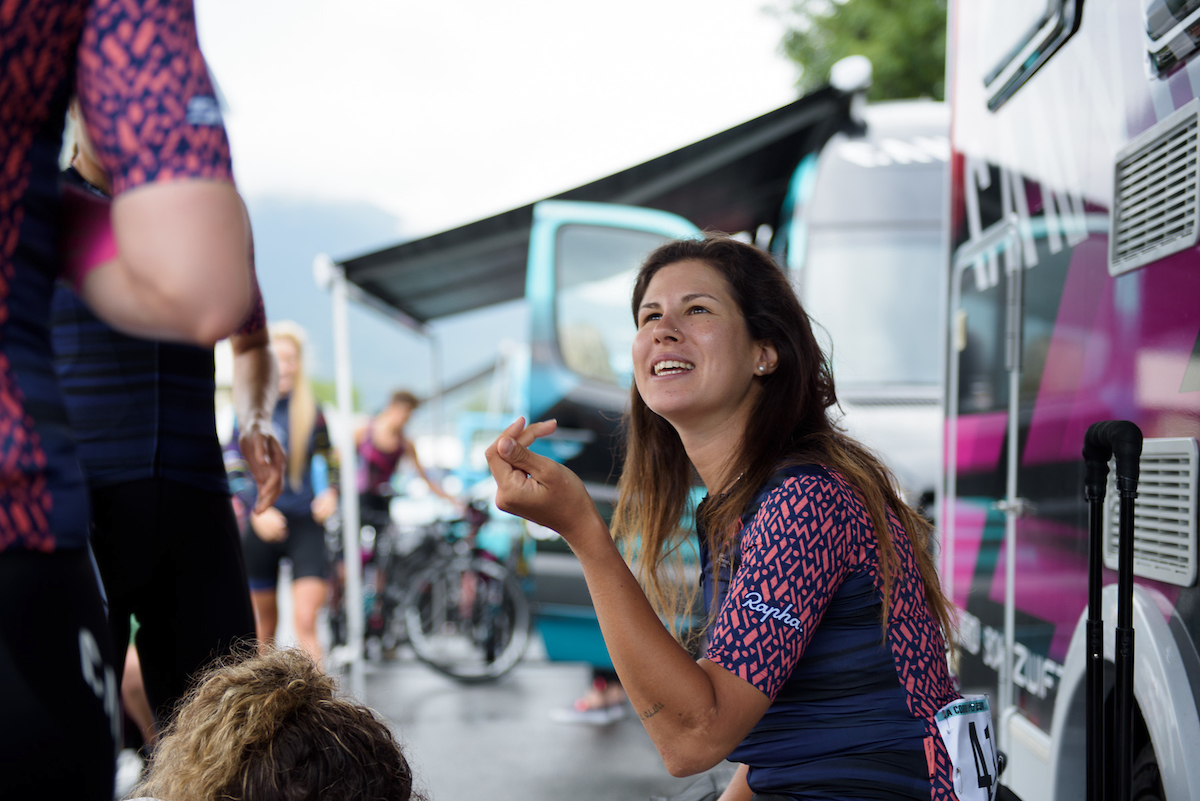 Pauline 16th at La Course by Le Tour and on to stage two
On the biggest stage for women's cycling, Pauline Ferrand-Prévot today led the special edition colours of CANYON//SRAM Racing up the col d'Izoard climb for La Course by Le Tour. With the help of her teammates Ferrand-Prévot's sixteenth place allowed her to progress to stage two of La Course by Le Tour. On Saturday, a pursuit-style stage two will take place in Marseille, on the same course as the ITT stage 20 of the Tour de France.
A high pace in the peloton today made it difficult for attacks to gain an advantage and it was only former ITT world champion Linda Villumsen, solo, who could manage to gain a gap of almost one minute. While Villumsen was caught near the base of the climb, Ferrand-Prévot was going with the first moves on the gruelling col d'Izoard.
"Barbara was really good for me in the first part of the race, keeping me away from any crashes. Elena brought me in to the bottom of the final climb in a good position. At the first part of col d'Izoard I felt really good and I was excited for what was going to come," said Ferrand-Prévot.
"At the steep section when the pace went on, it was just a little too fast and I felt I had to go my own pace and rhythm. I was suffering a lot near the end of the climb, but I didn't know what position I was overall, and I wanted to qualify for the stage two in Marseille. So with 2km to go I just went full gas and then I sprinted my group to get the 16th place."
"I'm happy with today because I gave everything. It's a long time since I raced on the road and I haven't trained at all for this type of climb," added Ferrand-Prévot.
The pursuit-style stage two on Saturday 22 July will see today's winner, Annemiek van Vleuten (OGE) start first, with 43 seconds gap (her winning margin today) before the second placed rider starts to chase her. This follows suit, until Ferrand-Prévot will start 4 minutes 34 seconds behind van Vleuten but with a group of four riders around her.
"I'm really happy to race on Saturday because I think it will be exciting. It's new and I like the idea. It's a bit of a shame there are such big gaps between the first three riders. But I'm in a group and I hope that we work together to pick up some people at the front. I saw the profile and I know that the climb will be hard. I won't pace anything. I'm going full gas from start to finish."