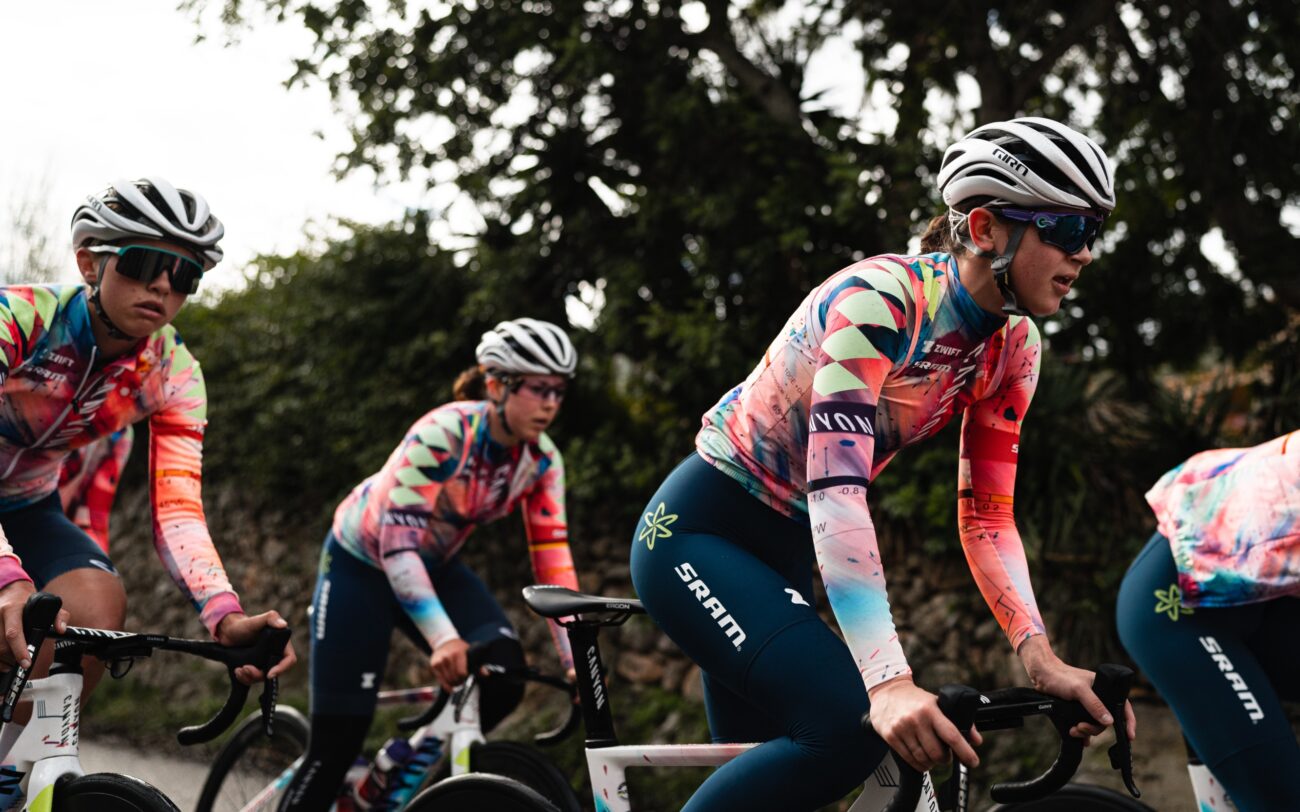 MAUD OUDEMAN - TICKING OFF THE FIRSTS
"I am super excited to be at the start line today of Le Samyn. I do feel a bit nervous when I think of the race, but it is also mixed with feelings of looking forward to it. Today I start a new list of firsts: my first UCI race in the women elite category, first race with the team, and my first race on cobblestones," says 18-year-old CANYON//SRAM Racing rider Maud Oudeman.
After winning the 2021 Zwift Academy in December last year, Maud won herself a pro contract with the Women's WorldTeam for the 2022 season. After two pre-season training camps, Oudeman will start her first race in CANYON//SRAM Racing colours at today's 99km Le Samyn des Dames in Belgium.
"The first team camps went super good and I had a lot of fun. The first time meeting my teammates was special and I felt really welcomed by the riders and staff. Everyone is very supportive and I have learned a lot on the bike but also off the bike too. The team is motivated and that inspires me," states Maud.
"It is really special how everyone in the team is involved and how they truly want to help me. It is all part of development as a rider but also as a person. Within this team, I can be myself which feels like a safe place. I already have progressed and learned a lot in these past two months. Every ride at training camp, riders are pushing each other to a higher level. It feels special to be a part of that."
Maud represented the Netherlands in last weekend's UCI Cycling Esports World Championships on Zwift, finishing 26th and helping her Dutch teammate to the rainbow jersey.
"After the Esports Worlds I had a bit of recovery and now I feel ready for the race today. I have some experience with how it works at an international race but now everything is more professional compared to racing at the junior level. With the support of the team I know I will gain a lot of experience in this first race," adds Maud.
"I hope I can help my teammates as much as possible. The cobbles and narrow roads will make it a hard race. I would be happy afterwards if I know I did my absolute best to stay in position. I also hope to have a few moments that I can enjoy the whole situation. Last year watching this race on television I would have never thought to be here already this year. So, I'm really excited to be lining up today as a part of CANYON//SRAM Racing."
HOW TO FOLLOW LE SAMYN DES DAMES
Today's Le Samyn des Dames starts at 12:00CET and can be followed on Twitter with #LeSamyn. The race is broadcast from 14:00CET on Eurosport and GCN. CANYON//SRAM Racing's complete roster is Alice Barnes, Shari Bossuyt, Elise Chabbey, Ella Harris, Lisa Klein and Maud Oudeman and Sarah Roy.