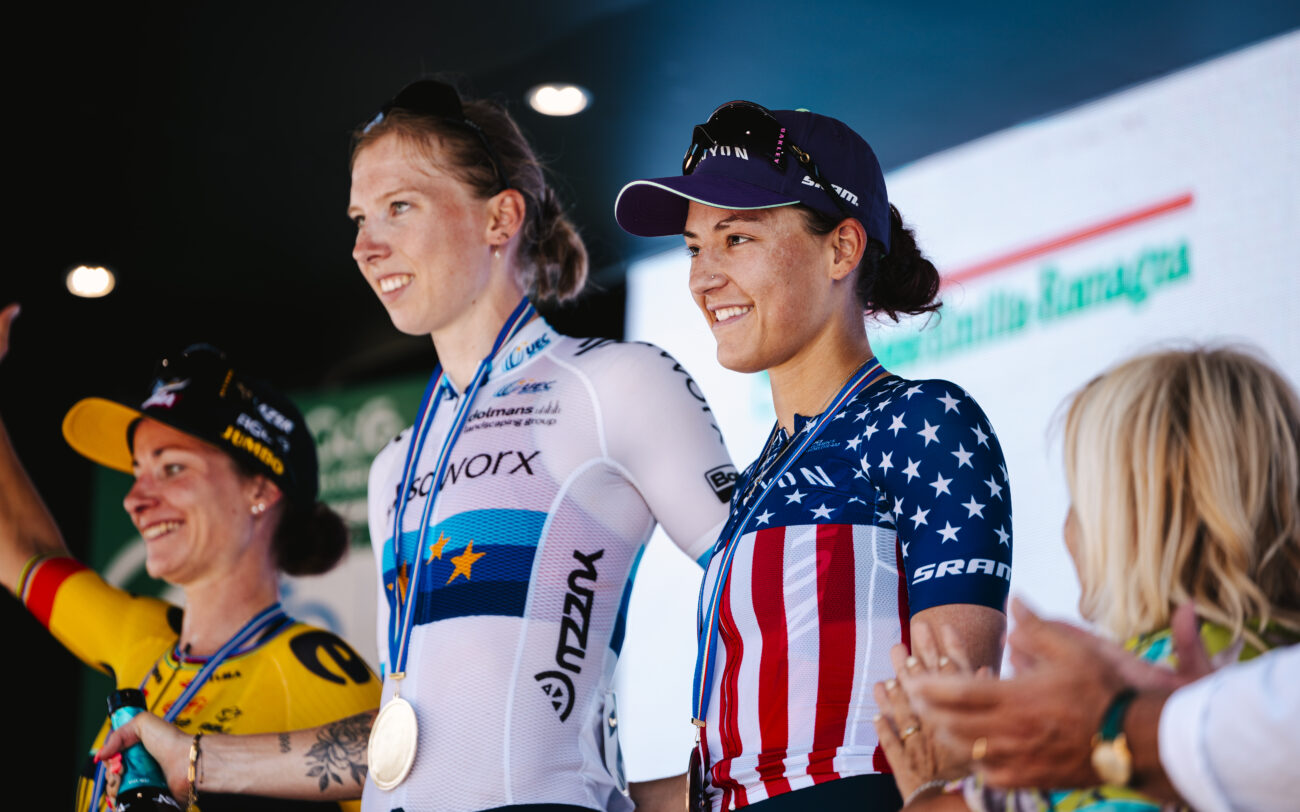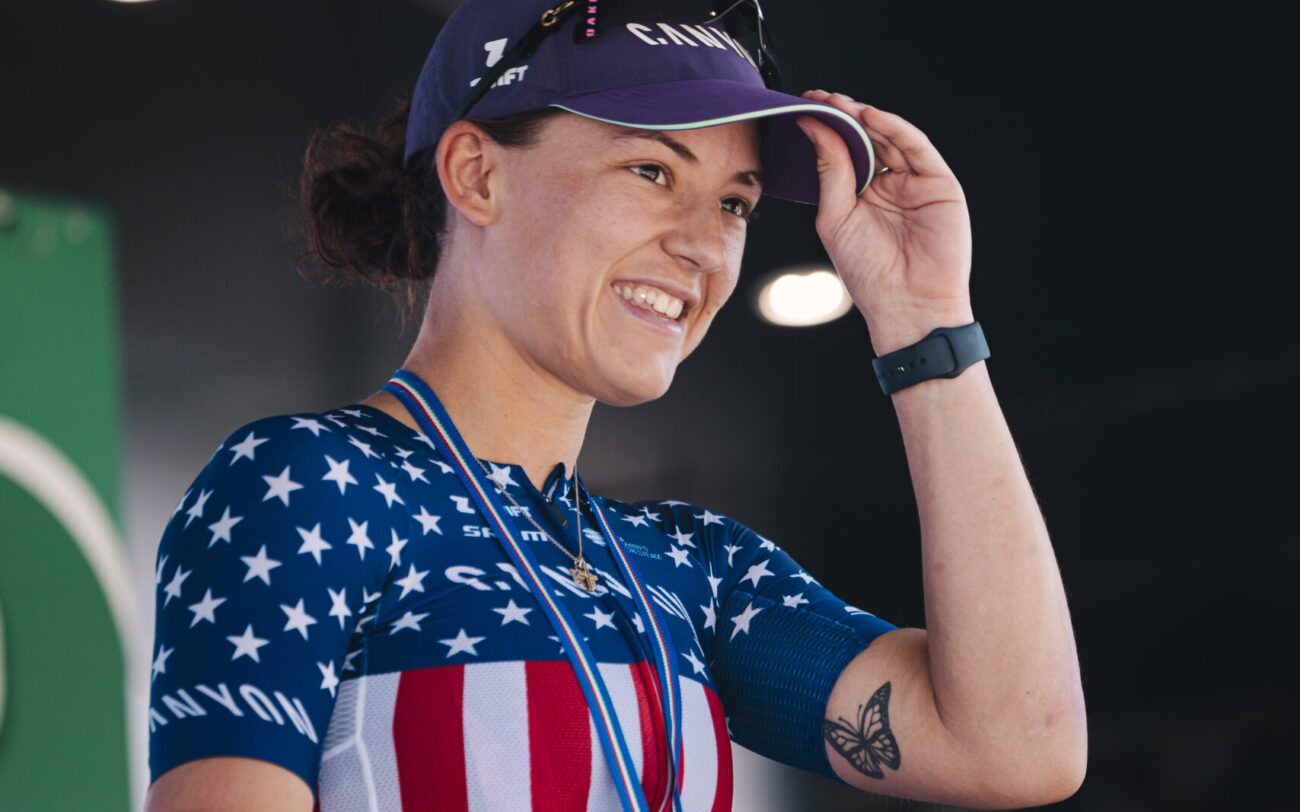 CHLOE SPRINTS TO THIRD PLACE ON STAGE 3 OF THE GIRO D'ITALIA DONNE
Chloé Dygert overcame a heavy crash two days ago to sprint to third place on today's stage three of the Giro d'Italia Donne in Modena. The CANYON//SRAM Racing rider had strong support from her teammates, with especially Tiffany Cromwell, Soraya Paladin and Sarah Roy guiding the USA national road champion through the final three kilometres to set up for the bunch sprint.
HOW IT HAPPENED
Before the stage started, commissaries announced that timings for general classification would be taken with 1km to go due to a narrowed entry into the final 700m. A four-rider breakaway led for much of the 118km stage. Once caught, a new breakaway was allowed to gain over a 1:30-minute lead from a peloton that clearly had its sights set on a bunch sprint. That breakaway finished with around 10km remaining as lead-out trains started to battle for position for stage three honours.
Earlier, Pauliena Rooijakkers and Neve Bradbury worked to support the team throughout the stage. Coming into the final, Tiffany brought the team into position, with Soraya taking the lead and setting the speed with just under 2km remaining. Sarah took over and led into the chicane at 800m and was able to keep the pace high, allowing Chloé to get back onto the wheel of Lorena Wiebes and Marianne Vos with 300m remaining. The trio finished in that order, with Chloé sprinting to third place. Chloé suffered a crash during stage one, landing on her tailbone, but was cleared to continue to race. In the classifications, Annemiek van Vlueten (MOV) retains the Maglia Rosa. Antonia Niedermaier is the team's best-placed GC rider in fourteenth at +1:34 and third in the youth classification.
RIDER REACTIONS
Chloé Dygert: "We went in with the plan to ride strongly as a team and have a good lead into the finish. There is still room to grow with our lead out, but we are getting better and better at it every race."
"We decided that we wanted to sit on the left side of the road with 1km to go so we could have the inside line into the park. The chicane was not sharp enough to make a difference, so I was separated from Weibes and Vos. Roy put in one last effort while I was able to get back onto Vos' wheel. We were still in the bend with 250m to go, and it was just too tight to do anything but wait for the straight. I'm frustrated not to be making progress in the finishing position, but I am happy to be learning and having a team put so much work and faith into trying to make it happen."
"I'm getting more comfortable with how I am able to sit on the bike without causing pain. Yesterday's stage was difficult, and I didn't have the power I usually would. Today, I just tried to stay smooth and focus on not compensating. I can tell I'm struggling, but I am very happy I am still able to continue the race!"
Sarah Roy: "We had a good idea of what the finish was like. It was so good to be completely in control as a team at the front; it was our pace and our line. Soraya did a massive turn on the front, and as the other teams started coming around, I made the decision to go to the front to keep the pace high. I was first through the gate at 700m to go, which was a tricky point in the final. When I swung off, I saw there were only about 10-15 riders left, and the pace was still high."
"Podiums are a really nice reward for everyone, including the staff with all our swannies and DS's and mechanics and everybody working so hard day in and day out. I'm glad we pulled off a podium and that I could have had a big contribution to that after all of the setbacks I've had this year."
HOW TO WATCH
The Giro d'Italia Donne can be followed on Twitter with #GiroDonne23 and #UCIWWT. A broadcast on RAI Sport, GCN and Eurosport is expected daily at 14:00.
Stage 4 | Fidenza – Borgo val di Taro | 3 July | 134km | Start 11:00CEST | Broadcast 14:00CEST
Stage 5 | Salassa – Ceres | 4 July | 103km | Start 11:20CEST | Broadcast 14:00CEST
Stage 6 | Canelli | 5 July | 104km | Start 12:00CEST | Broadcast 14:00CEST
Stage 7 | Albenga – Alassio | 6 July | 109km | Start 11:40CEST | Broadcast 14:00CEST
Stage 8 | Nuoro – Sassari | 8 July | 125km | Start 11:35CEST | Broadcast 14:00CEST
Stage 9 | Sassari – Olbia | 9 July | 126km | Start 11:25CEST | Broadcast 14:00CEST