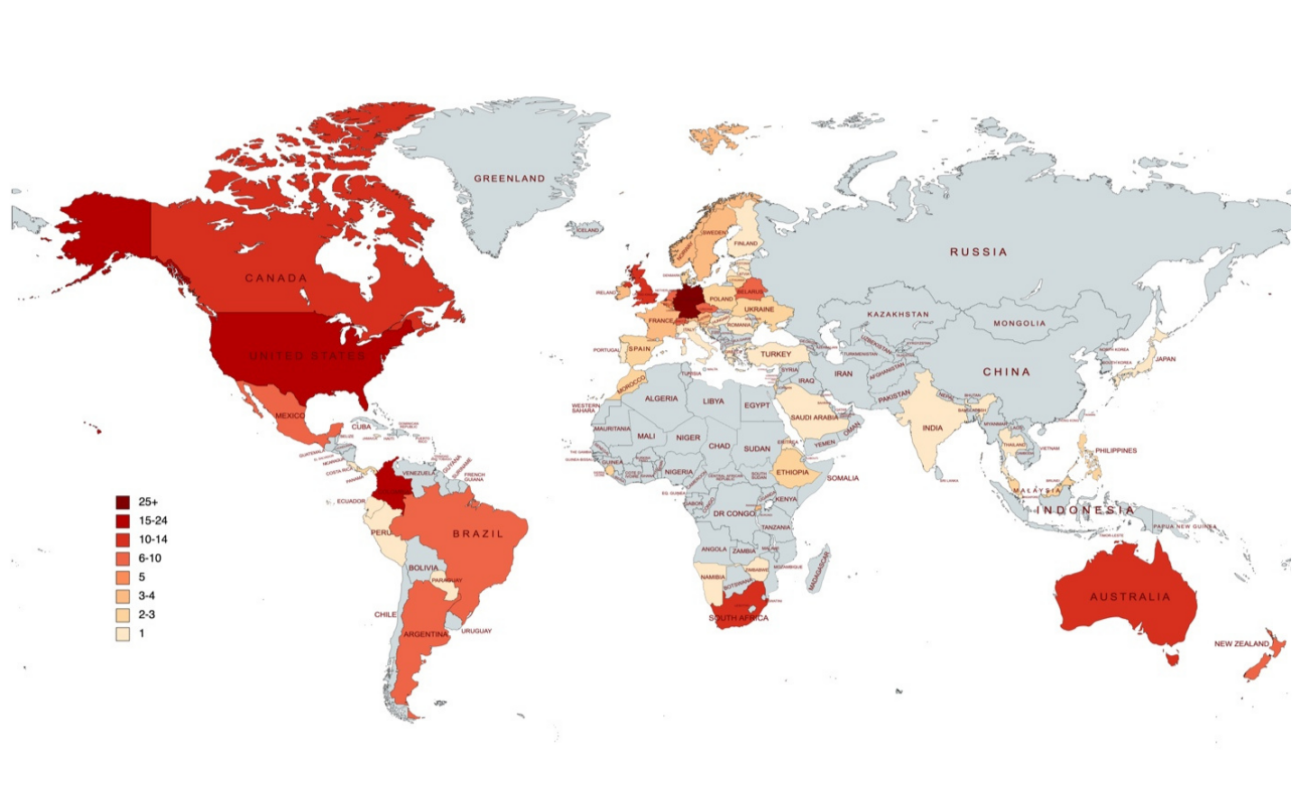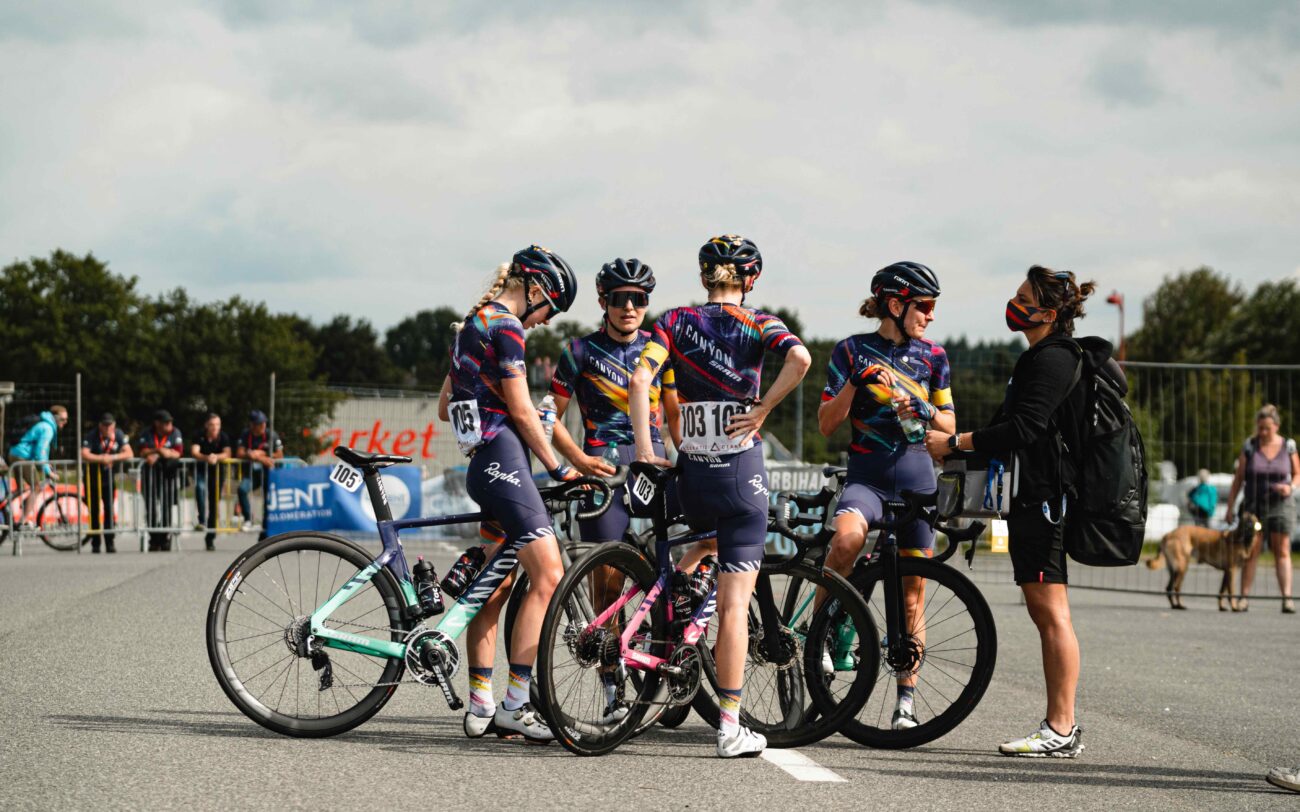 CANYON//SRAM GENERATION RECEIVES 239 RIDER APPLICATIONS
When CANYON//SRAM Racing announced its plans for a women's development team in July, it was not surprised by the overwhelmingly positive response. The team understood it was about to create a new and unique pathway to the women's pro peloton and anticipated high interest from athletes all over the world, but even so, it was not expecting the flood of applications that ensued.
Within the two week opening period, the team received 239 applications from riders of 62 different nationalities. The development team, officially named CANYON//SRAM Generation, is finalising its registration as a UCI Women's Continental Team. It's the first time a Women's World Tour team has its own development team, providing scholarships to cover all aspects of training and racing, and offering a unique pathway to the Women's World Tour. The map shows the number of applications received from various countries around the world.
Team Manager Ronny Lauke says, "I had no expectation really on a specific number of applications but I was very curious to see how many athletes were interested to become part of this team. The number indicates there is a high demand, and it shows there are many athletes all over the world that don't get the opportunity to show their willpower and talent."
CANYON//SRAM Racing and CANYON//SRAM Generation's Diversity and Inclusion expert, Christine Kalkschmid was also excited with the number of applications.
"We expected quite some applications as the possibility to join CANYON//SRAM Generation was a unique opportunity, but we were overwhelmed by the number of applications! Not only by the sheer number but also the fact that we had applications from so many different nations, from all continents, through a wide variety of ages, and from all different backgrounds."
Christine elaborates, "As the development team is part of the CANYON//SRAM Racing's D&I program, we did not only want to ensure applications from promising riders from a performance point of view, we also wanted to make sure that we create a new team of ambassadors for Diversity and Inclusion. Hence, we did not only request information about performance data and previous successes of the applicants but also about their values and goals and how they think they can contribute to the team's success."
"It was a pleasure to see that many applicants have put a lot of time and energy into their application and have elaborated on their own personal values and goals and their standpoint on the topic of Diversity and Inclusion and how that can be of benefit for the team."
On reading through each of the applications, Lauke said there were several points that stood out for him."Each application had its own story that was worth listening to. They also helped us understand much better how big the gap for athletes in certain parts of the world is between starting in the sport and having the chance to get an opportunity to train and race full time as a professional cyclist," explains Ronny.
With CANYON//SRAM Generation forming a key part of CANYON//SRAM Racing's long-term D&I program, it was natural that Christine was part of the entire process.
"My role in the selection process was twofold. First of all, I helped to structure the process with my Human Resource expertise, in order to be able to manage a meaningful discussion of all the 239 applications within a reasonable time frame."
"During the discussion itself, my main role was to ensure that the decision whether a certain rider was rejected, put on the long list or shortlist was based on plausible reasoning and objective criteria. We all have unconscious biases that drive our decisions without us being aware of them. Therefore, it is very important to involve someone in the process who comes from a different background and asks different questions. That forces everyone to really think about why they want to take a decision in favour of one or against another person and whether this decision is really based on compelling evidence or rather on personal opinion or preference."
Christine adds, "CANYON//SRAM Generation is one major milestone in the overall D&I program of CANYON//SRAM Racing, but we need to keep in mind that it is indeed a long-term project. Our work has only started for both teams but we are definitely on the right track."
After creating a long and shortlist of riders from all of the applications, the team has been contacting riders and is in the process of finalising the eight-rider roster for CANYON//SRAM Generation in 2022.
"We're currently doing all of the administration and organisation work, and are in contact with the German national federation to complete the registration, and to bring the team successfully onto the road for 2022. The aim is to have both our Women's World Team and Women's Continental Team together for our first training camp in January," says Ronny.