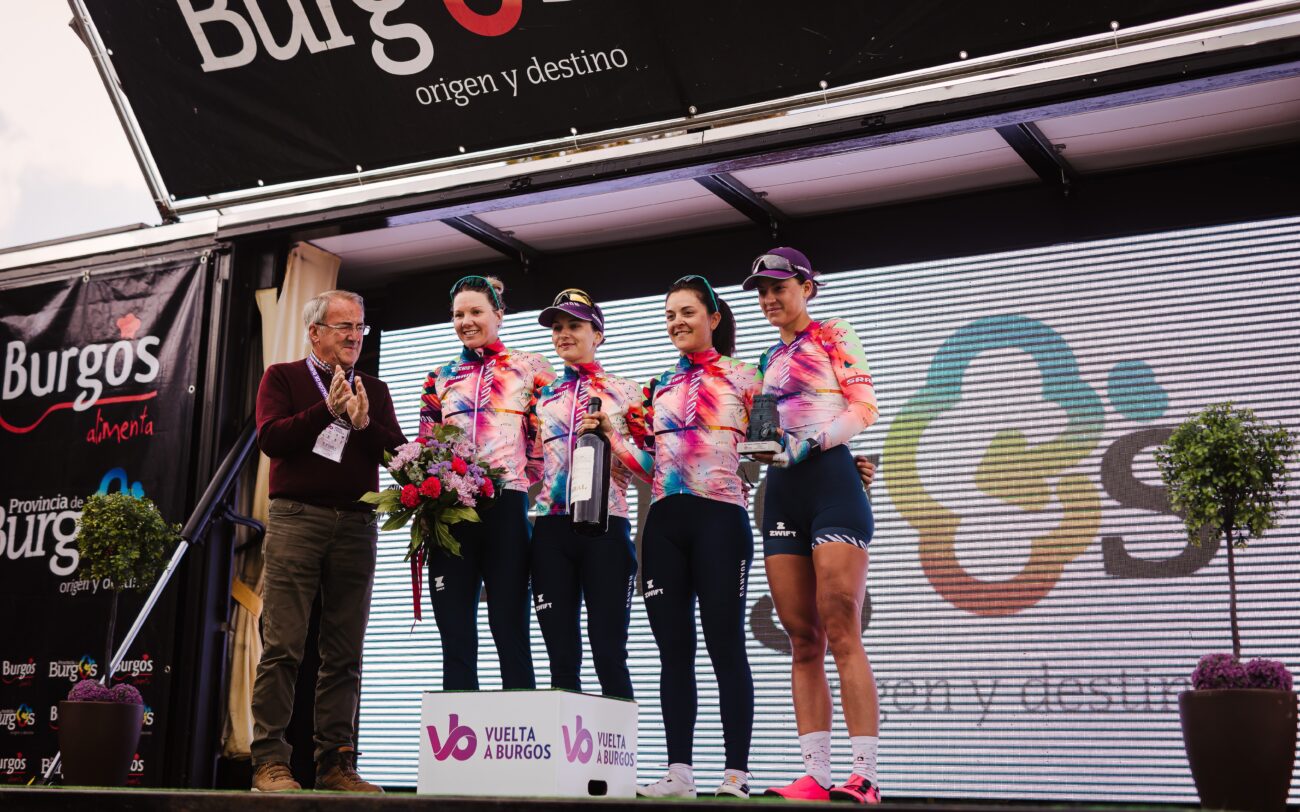 THREE RIDERS IN GC TOP TEN AND WINNERS OF TEAM CLASSIFICATION
CANYON//SRAM Racing finished Vuelta a Burgos with an outstanding performance on the final stage. Chloè Dygert climbed strongly to finish ninth on the summit finish on top of Laguna de Neila. The effort placed Chloè fourth on the general classification behind winner Demi Vollering (SDW). Teammate Agnieszka Skalniak-Sójka crossed the line just behind Chloè in tenth place. The pair's result meant that CANYON//SRAM finished with three riders in the top ten on GC—Dygert fourth, Agnieszka sixth and Soraya Paladin eighth.
The final stage saw an early breakaway of 17 riders, but only three could make it as far as the bottom slopes of the Laguna de Neila special category climb. The leading group was reduced as rider by rider dropped from the high pace on the steep slopes. Chloé could climb with the leaders until the final kilometres, where Agnieszka, who was distanced earlier, was able to ride back into a top place on the stage. Soraya won maximum points in four of the six mountain classifications during the tour, but with 30 points awarded to today's stage winner, she missed winning the final mountain classification by just six points.
RIDER REACTIONS
Chloé Dygert: "Going into today, with the long last climb, I honestly had no idea what to expect. Every day is a new day, I just try to push the limits. We are all still learning about what I am capable of. I'm pleased to be strengthening my weaknesses!"
"In the last part of the climb, I was just trying not to throw up! But really, I was focusing on what I needed to work on to be better for the next steep climb. How can I make it with the group next time? Just trying to better myself all the time."
"For the tour overall, I'm truly blessed to be riding and racing again. Results will come, I am focusing on my goals for the season, and this is just a check off the list in getting there. It has been so nice being with the team again, they have welcomed me with open arms, and we work so well together."
Agnieszka Skalniak-Sójka: "I felt really good on all the stages of the Vuelta Burgos. I know from last year that I can climb well, so I was looking for a bit of a chance in the breakaway today, but it was erased quite quickly. After that, it was all about whoever had the legs on the final climb."
"The pace was really hard from the bottom. I tried to follow the riders in front of me. In the last 3km, I was with Reusser and a Cofidis rider. They rode hard but steady and we could make up some time on the leaders."
"It was a good race for us. I think all this will bear fruit, and soon we will stand on the top step of the podium."
Soraya Paladin: "It was hard. I didn't have my best legs today, so I was suffering from the bottom to the top of the last climb. Yesterday, they told me if I was able to win the first two QOMs and arrive around the top 10, I could keep it. If I was able to get it ok, if not, also ok. I enjoyed wearing it. I was focused more on the stage than the jersey. Personally, I was expecting a bit more from myself today. I still have to improve a lot in this kind of final. I'm motivated to work more. Luckily we had Chloè and Aga on fire and climbing strongly today."
"Winning the team classification shows again we have a strong team. We need to keep performing like this."