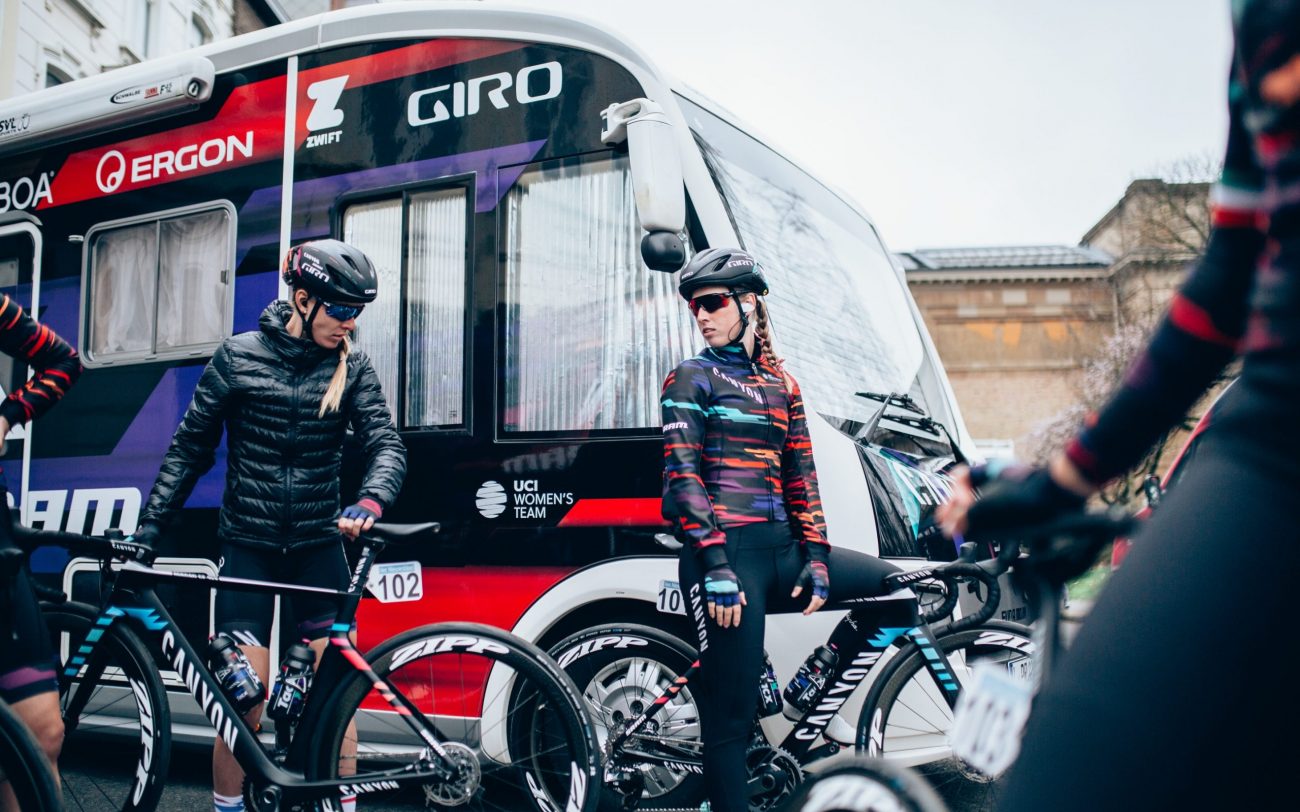 Barnes sisters at Tour de Yorkshire
We quickly turn now to the two-day stage race, ASDA Tour de Yorkshire Women's Race on Friday 3 and Saturday 4 May. Barnes sisters Alice and Hannah, will headline a roster for the team with Tanja Erath, Ella Harris, Hannah Ludwig and Christa Riffel joining the British duo.
"I'm looking forward to racing in Yorkshire. It's almost a home race for me so I am especially motivated to have a good weekend," said Hannah Barnes.
"I rode both stage two weeks ago and they're going to create some great racing. Stage two has climbs with pitches up to 33%! That's really going to determine the overall tour winner and being on a Saturday the crowds to watch the action will be huge," said Alice Barnes.
Live broadcast on ITV4
Both 132km stages will be broadcast live on ITV4 and on the Tour de Yorkshire facebook page.
"Stage 1 takes us around the Harrogate circuit that we will also do in the 2019 Road World Championships so the peloton can get a glimpse of what the race will be like in September. I think the stage will finish with a  bunch sprint," predicted Hannah Barnes. 
"Stage 2 falls on my birthday so I hope one of my presents is good legs that day because I am going to need them! The climbs are very steep so I can see the race being won from a small group or a solo attack."​
Grippier roads for a Stage 1 bunch sprint
"The UK roads have a lot more grip compared to those in Europe, so that will play a role in the race," said Alice Barnes.
"I agree with Hannah that Stage 1 is likely to be a sprint but the run-in is also twisty and a little bit narrow so I can imagine the sprint to be pretty hectic. I'm sure we will have a strong peloton because a lot of riders want the chance to ride the World Championship circuit around Harrogate under race conditions. With the final at Worlds coming on a one-way street, it's impossible to experience it properly outside of a race situation," added Alice Barnes.
Preparing for the Yorkshire crowds
"The crowds are always amazing at TDY. Especially this year we have the best of both worlds. On Friday's stage all of the school children will be lining the streets to cheer us on. With stage two on a Saturday it means many people won't be working and I expect the crowds will be even bigger," continued Alice Barnes.
"It's going to be some great racing and I am looking forwards to getting to the stat line hopefully with my best shape."
How to follow 
Stage 1 | 132km from Barnsley to Bedale | Friday 3 May | start 09:05BST | finish 12:33BST.
Stage 2 | 132km from Bridlington to Scarborough | Saturday 4 May | start 09:05BST | finish 12:44BST.
Follow on Twitter with #WTDY and watch the action live on ITV4 or Tour de Yorkshire facebook page.