Valentine Nzayisenga
Rwanda
Valentine Nzayisenga became Rwanda's national road champion in 2019 at just 19 years of age and achieved that after racing her bike for only one year.
She competed at the African Continental Championships with a top ten in the road race and raced the UCI Road World Championships last year and says hard work and determination have been key to her achievements in cycling so far.
"I feel like my best strengths are as a climber. I am always willing to help the team leader in every situation, and I hope that I can be good myself in the more hilly races. I can't wait to start learning and racing with the team."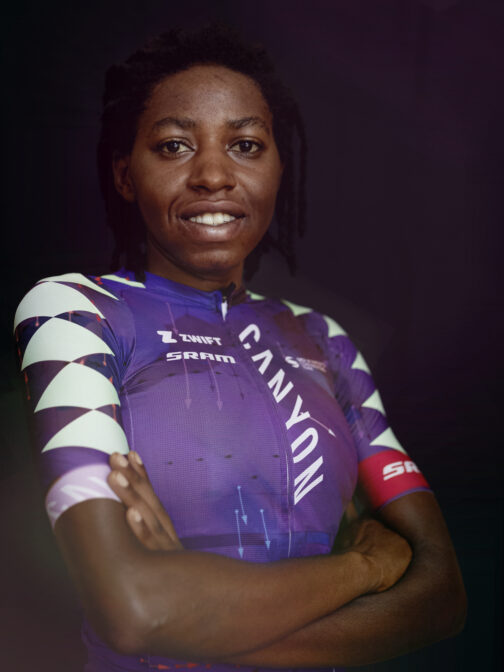 Palmares
2022
5th place elite, Il Liga Autonomica de Féminas
4th place U23, Il Liga Autonomica de Féminas
10th place elite, Trofeo Dulcinea
3rd place U23, Trofeo Dulcinea
2021
8th place, African Continental Road Race Championships
Silver medalist, African Continental Mixed TTT Championships
Silver medalist, African Continental Women's TTT Championships
2019
Rwandan National Road Champion
2018
6th place, Rwandan National ITT Championships
5th place, African Continental Junior Road Race Championships
Winner, African Continental Junior TTT Championships
Silver medalist, Rwandan National Road Championships
2022
The new Women's Continental team is part of CANYON//SRAM Racing's long-term D&I program. This two-tier structure is the first of its kind for a European-based WorldTeam creating a formal pathway to the Women's World Tour. Established in 2022 to help talented female athletes from diverse backgrounds reach the top of professional cycling, and to help them break new grounds for their future and for the future of cycling. The final roster of CANYON//SRAM Generation unites eight ambitious women from seven different countries across four different continents.