Siti Nur Alia Mansor
Malaysia
At 20 years of age, Alia Mansor said she started to consider a cycling career more seriously in 2016 when she raced Sukma Sarawak, one of the biggest cycling events in her home country of Malaysia.
"After I entered Sukma Sarawak, I thought to myself 'this sport is what can lead me to success in the future'. At home in Malaysia, everyone knows me as a cyclist, especially in my town of Kuala Terengganu. I'm very excited with this new opportunity with CANYON//SRAM Generation and I feel like I'm ready mentally and physically for it."
With experience predominantly racing track cycling, including several national titles to her palmares, Alia said she is excited to start her career as a road cyclist.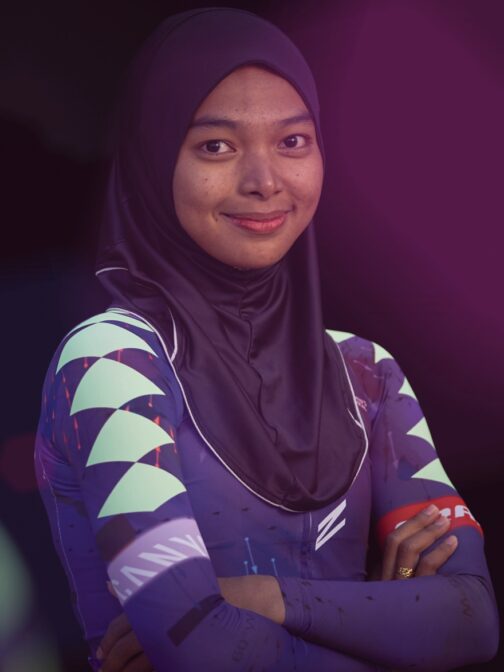 Palmares
2022
Bronze medal, Malaysian ITT national championships
2021
4th place, Malaysian national road championships
2020
4th place, Malaysian national road championships
2018
Silver medalist, Sprint race Malaysia Games, Sukma
Bronze medalist, 500m time trial Malaysia Games, Sukma
2022
The new Women's Continental team is part of CANYON//SRAM Racing's long-term D&I program. This two-tier structure is the first of its kind for a European-based WorldTeam creating a formal pathway to the Women's World Tour. Established in 2022 to help talented female athletes from diverse backgrounds reach the top of professional cycling, and to help them break new grounds for their future and for the future of cycling. The final roster of CANYON//SRAM Generation unites eight ambitious women from seven different countries across four different continents.